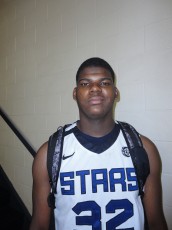 Just yesterday, Coach Mike Krzyzewski visited 6-9 Tony Parker, one of the Blue Devils long time targets.  Krzyzewski has been pro active with Parker for better than a year now and he's leaving no doubt that he is and has been a prime target,  Parker has some of the best hands you'll see on a big man and he of course, eats up a lot of space in the paint.  He has the opportunity to follow in the foot steps of similar past Duke alumni in Carlos Boozer, Shelden Williams and Elton Brand, all of whom are still balling in the NBA.
Today, Krzyzewski and company continue their trek when he will drop in on Brewster Academies Mitch McGary.  The young budding star is another player the Blue Devils staff covets and one whom they are making sure knows their desire to see him rocking rims in Cameron Indoor Stadium.  While some are saying that McGary is a Michigan lean, he said himself in the recent Jason Jordan's ESPN Blog that he didn't really know where he wanted to go yet.  We tend to believe him and why not?  McGary is not a kid that has been deceptive in his recruiting process to date and he is a young man with several schools making a hard play at him.
The Blue Devils will not be finished with the McGary visit.  Three other key prospects are on the agenda. 


Sorry, but you must become a premium subscriber to view the rest of this post.

Join now by visiting the PREMIUM MEMBERSHIP link at the top of the page, where you can learn more about the benefits of a Blue Devil Nation Premium membership.
This post is also available for individual purchase, but you need to login or register first.