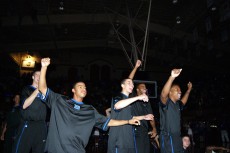 In this weeks addition of Monday Musings, we take a look at each player on the men's basketball team and share our thoughts on their performances during Countdown to Craziness.  We are more than aware it is hard to tell much from a partial Blue-White game but having watched the Blue Devils as much as we do, there are some trends developing. We are working on BDN highlight videos, so look for those today and a photo gallery as well.  As for the Cheerleader of the week, it will return in the next edition of Monday Musings.
Miles Plumlee - Miles looked like the senior leader we are all hoping for scoring 15 points and grabbing 8 rebounds in the game.  Miles is a great run jump athlete and he seems to have found the groove of bringing that athleticism in a consistent manner.  He is a clear starter for this seasons team and the guy Duke can turn to for toughness.
Mason Plumlee - Mason dropped in 9 points and grabbed  5 rebounds in an underwhelming performance but he played well down the stretch for the Blue team.  I have such high hopes for Mason that I hold him to a different level of expectations.  His numbers still translated to around 15 points and 9 rebounds if he had played a full game.  Mason is in the rotation of the top six Duke players and a likely starter.
Seth Curry - I told everybody that would listen over the summer that Seth Curry would take a tremendous leap in his junior season and he made me look like a prophet scoring a game high 28 points with his smooth style of play and he led the team in assists with 4.  We called  your attention early on that we felt he would get a look at the PG spot and folks, he is the starter there which Coach K said in a clear manner with his post game comments.  I will vote for Curry to be first team All ACC on Wednesday at ACC Operation Basketball, something I told other sports writer friends who paused at the notion when first mentioned.  I will bet he has their vote now.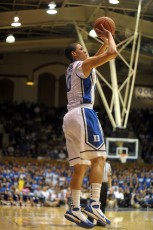 Austin Rivers - Rivers had his Cameron debut after walking out to Frank Sinatra's "My way," scoring 14 points and pulling down 5 rebounds from the wing guard spot.  I was the first to get to him in the locker room and the entire herd soon followed my lead.  Such is the nature of things when you are one of the most hyped players in the country.  Rivers six turnovers to a single assist was a bit disturbing but fans will need to wait it out a bit to see his best.  I see Rivers going down a road similar to Harrison Barnes last season where he gets better and suddenly the light goes off.  Coach K warned of lofty expectations with concern to Rivers, saying comparing him to Kyrie Irving would be a mistake in that the PG spot is easier to step into.  As usual, I agree with Coach.
Ryan Kelly - There was much talk abut the off season improvement of the bearded one known as  Ryan Kelly,  His numbers of 12 points, 4 rebounds and 2 blocks are numbers  I feel he will put up on a consistent basis,  Kelly simply plays withing the teams framework and I think he will be one of the top for scorers for Duke this season.
Andre Dawkins - Dawkins did not shoot the ball well and ended the game with 7 points and 1 board.  Still, I know Coach K wants him to keep shooting.  Dawkins is currently in the top six players rotation and there is no reason to think this will change.
Josh Hairston - Hairston put up 6 points and pulled down 5 rebounds showing that he can produce at the forward spot.  It'll be interesting to watch his development this season and see if he can crack the rotation.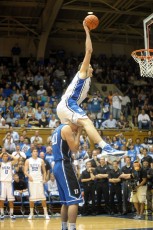 Quinn Cook - Cook dropped in 7 points, grabbed  2 rebounds and dished 2 assists in 17 minutes of play.  I heard some say, he's better than they thought he would be.  Look folks, Cook has a lot of potential and he simply needs to make a grab at the leadership reigns by getting his teammates involved.  I liked Quinn Cook the first time I saw him and he does have the ability to develop into a leader with more confidence on the court.  There is no shortage of confidence off the court as he admits in our recent video interview with him.
Alex Murphy - During the Blue teams rally to win, Murphy played a key role down the stretch.  He took a baseline drive with authority with the game on the line, was fouled and sank both free throws.  That was his only 2 points to go with a rebound, 2 key steals at crunch time and a team high and pleasantly surprising 3 blocks.   Murphy is getting adjusted to the speed of the game and the physicality but he is a smart basketball player that coach K praised.
Tyler Thornton -  "We've got another good guard," stated Mike Krzzyzewski when questioned about the play of Quinn Cook and he is talking about Tyler Thornton a steady performer with good on ball defensive skills.  Thornton has played and can play with the ACC's best point guards for he did so all through high school.  Nice depth at the guard spot for Duke this season.  Thornton had 3 rebounds from the guard spoit to go with a bucket and an assist.
Michael Gbinije - Silent G scored 3 points grabbed  1 rebound and had 1 assist as the first man off then bench.  He will need to be more aggressive to earn minutes but he does a lot fo things that doesn't  show up in the box scores and has potential to leap into the top ten quickly.
Marshall Plumlee - Having followed Marshall for several years on the AAU circuit, I can say that he gets bigger and better each time I see him.  The third Plumlee plays with a revved up motor and enthusiasm and that over time will translate into him being a factor.
Cameron Crazies - Leading up to the game, I will give them an A-, during the game a grade of C is at hand for they were very average.  Okay, it's early and some tradition needs to be learned.  The Crazies went silent when the game started with disjointed cheers.  Part of that is understandable, but that performance  was in no way acceptable behavior if a game was at hand.  I feel certain they'll improve their game just like the team will in that we are all connected here in some way,.
The event itself - It's always a feel good time and that will nevr change.  There is a genuine love affair between Duke and their fans, both being faithful to each other.  May the Countdown to Craziness event live forever.