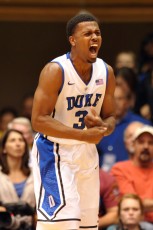 During the post game press conference, Coach Mike Kyzyzewski, states, "Our fans need to realize that Belmont is a good team."  It certainly showed to as the veteran team that others avoid to schedule fought their way back into the game, but Duke made plays down the stretch to come out with a 77-76 win.  This Duke team is young and are a work in progress and Kryzewski stated that they would be better from the tight game and I agree.
While some will point to the fact the game was simply close, Duke, despite their youth was cool down the stretch.  Andre Dawkins drained a huge three which put Duke up by three and Ryan Kelly drained two free throws to seal the first win of the season.
Tyler Thornton had the best game of his career
The Belmont guards wore down the Duke backcourt with their pressing and depth and that meant Tyler Thornton had to step up and he did.  Thornton adds a calming influence to the team and going 2 for 3 from the field and 2 of 2 from the three point stripe helped Duke gain a victory.  Thornton told BDN after the game that his performance is one he could build on.
Mason was a Monster on the blocks
Mason Plumlee put up some very impressive numbers of 13 points, 14 rebounds and a team high 6 assists.  He also had a very key block in the second half.  Check out our interview with Mason which will be up soon.  His brother Miles never really got off in this game, scoring  4 points to go with 6 boards, but played just 17 minutes.
Curry and Rivers
Curry struggled a little in the distribution department but still managed a so-team high of 16 points.  Curry hot four consecutive three pointers in the contest. Rivers was the other player with 16 in his freshman debut.  Krzyzewski said it was a good game for his first one but that he needed to dish the rock better when he penetrates.  Rivers knocked down 8 of 10 free throws.
Kelly huge second half
Ryan stepped to the free throw line with seven seconds on the clock and hit nothing but net to give Duke a 4 point lead.  He totaled 12 points on the game to go with 6 rebounds.  Krzyewski was pleased at how calm he played down the stretch.
Coach K not pleased with his teams offense
Coach did not like the way his team played in the second half on the offensive end and said the turnovers, a whopping 19, led to a lot of open threes on the other end for Belmont.
By the numbers
Coach K is now two games shy of the all time NCAA wins record.  Duke has won every season opener since the 2011 season.  Five Duke players scored in double figures.  Duke has now won 87 straight games against non conference opponents in Cameron.  Duke is 66-2 in Cameron over the last five seasons.
Duke is now 1-0 on the season and takes on Presbyterian at 4:30 on Saturday in Cameron Indoor Stadium.