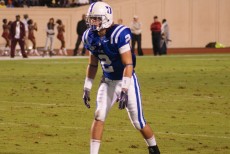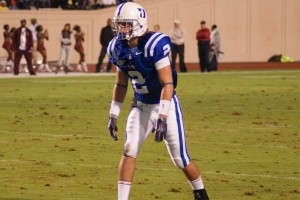 MIAMI GARDENS, Fla. – Miami used a balanced offensive attack to post a 49-14 victory over Duke in ACC football action on Saturday afternoon in front of 62,053 fans at Sun Life Stadium in Miami Gardens, Fla.
The Blue Devils fall to 3-6 overall and 1-4 in conference play while the Hurricanes improve to 5-4 overall and 3-3 in the league.
Miami scored on all four of its offensive possessions in the first half to build a 28-7 lead. The Hurricanes put together scoring drives of 78, 65, 64 and 93 yards as Jacory Harris completed 12-of-16 passes for 167 yards and three touchdowns prior to intermission.
Duke's lone points of the first half came on Sean Renfree's four-yard touchdown pass to Conner Vernon at the 6:09 mark of the second period.
Coming out of intermission, Duke marched 74 yards on eight snaps for a six-yard touchdown run by Renfree to trim the deficit in half. Following a failed on-side kick attempt by the Blue Devils, Miami pushed the lead back to three touchdowns with a six-snap, 45-yard drive that resulted in a three-yard scoring run by Lamar Miller.
In the fourth period, the Hurricanes turned two Duke turnovers into 14 points to claim a 49-14 lead on a six-yard scoring run by Mike James with 5:31 left in the game.
The Blue Devils travel to Charlottesville, Va., next Saturday to meet the Virginia Cavaliers, who defeated Maryland, 31-13, earlier today to improve to 6-3 overall and 3-2 in conference action. Kick-off at Scott Stadium is set for 3 p.m. and the game will be televised live by the Regional Sports Network