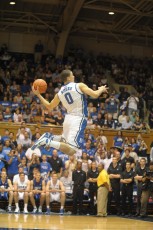 It's not even Thanksgiving yet and the Duke Men's Basketball team is already 6-0 with wins over quality teams.  The Blue Devils added to their March resume by defeating #15 Michigan 82-75 and in the process advance to the championship game of the EA Sports Maui Invitational.
Austin Rivers scored the ball well with a career high 20 points.  The dandy freshman drew  Tim Hardaway Jr. for most of the night and he held him with help from his teammates to 0 in the first half.  Hardaway would warm up to score 19 points, all in the second half, but Duke was never really threatened after going out to a double digit plus lead.
Seth Curry added 17 points for Duke and continues his consistent, silky smooth play.  Ryan Kelly has now had back to back great games where he scored 17 points and went a stellar 9 of 10 from the free throw stripe.  Andre Dawkins was the other Blue Devil in double figures with 14 points and 4 three pointers.
The Blue Devils handled the Wolverines vaunted 1-3-1 defense with tight guard play.  That combined with 11 three pointers at a plus 50% clip and the Blue Devils remain undefeated on the season and they have yet to lose in the Maui Invitational.  The Blue Devils will face the winner of the UCLA-Kansas game which guarantees a match up against on the the all time best college basketball programs.
BDN's Terry Rains will be adding some video interviews shortly where he is on the scene in Hawaii, so stay tuned for that.