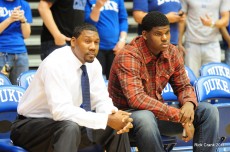 It's getting down to crunch time for one of the nations top senior prospects in the 6-9, 280 pound Tony Paker.  The big man with the soft hands and solid post moves visited the Duke campus this past weekend where he took in the Blue Devils exhibition game.  Parker was accompanied by his parents and arrived on Friday and spent close to 48 hours with the Duke players and staff.  Blue Devil Nation Premium caught up with Tony Parker who gave us all the latest skinny including his thoughts on his visit to Duke where he used the word "great," numerous times. It's a great time to join and gain full site access and then discuss the latest with members on our private message board.
We talked during the AAU circuit and beyond and each time you said that you would be making a decision before your high school season.  Is that your plan?
Yes sir.  Our season starts November 10th but we're already practicing.
What kind of team do you guys have this season and will you be playing in some of the national made for T.V. games?
We should have a pretty good team, real experienced.  We have four games all of them will be on ESPN.


Sorry, but you must become a premium subscriber to view the rest of this post.

Join now by visiting the PREMIUM MEMBERSHIP link at the top of the page, where you can learn more about the benefits of a Blue Devil Nation Premium membership.
This post is also available for individual purchase, but you need to login or register first.