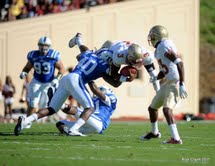 CHARLOTTESVILLE, Va. - Donovan Varner became Duke's all-time leading receiver but the Blue Devils fell to Virginia, 31-21, in ACC football action on Saturday afternoon as 45,733 fans looked on at Scott Stadium in Charlottesville, Va.
A senior from Miami, Fla., Varner broke the school's all-time record for pass receptions with a 21-yard effort from Sean Renfree late in the second quarter and currently holds the mark with 194 career catches. Clarkston Hines, who was inducted into the College Football Hall of Fame in 2010, previously held the standard with 189 catches from 1986-89.
Varner finished the day with seven catches for 132 yards, marking the ninth 100-yard performance of his career. He also matched the school record for most consecutive games - 35 - with at least one pass reception, and shares the standard with former Duke standout and assistant coach Scottie Montgomery, who recruited Varner out of Gulliver Prep in Miami.
Duke falls to 3-7 overall and 1-5 in conference play.
After blocking a Duke field goal attempt, Virginia (7-3, 4-2 ACC) marched 80 yards on 11 plays for the game's opening score - a six-yard touchdown pass from Michael Rocco to Jeremiah Mathis with four seconds left in the opening quarter. Duke answered with a 64-yard scoring strike from Renfree to Varner to knot the score at 7-7.
The Blue Devils then forced a punt, and Renfree guided Duke 66 yards on seven snaps for a 14-7 lead on a one-yard touchdown run by Juwan Thompson with 8:53 left in the second period. Prior to halftime, Virginia tied the game up at 14-14 with an 11-play, 78-yard march that ended with a 38-yard touchdown pass from Rocco to Kris Burd.
Virginia claimed a 21-14 advantage early in the third quarter when Chase Minnifield returned an interception 54 yards for a touchdown. Aided by a 51-yard pass from Renfree to Conner Vernon, Duke quickly made the score 21-21 on Thompson's second rushing touchdown of the game - this one coming on fourth-and-goal from just inches away after the Cavaliers had stopped a pair of Renfree sneak attempts.
Perry Jones pushed the Cavaliers back ahead, 28-21, with a one-yard plunge at the 6:52 mark of the third quarter, capping a seven-play, 56-yard drive. On Virginia's next possession, the lead was increased to 31-21 on Robert Randolph's 29-yard field goal.
Renfree finished the day 21-of-38 passing for 303 yards with one touchdown and one interception. Safety Walt Canty led the Duke defense with a career-high 15 tackles.
Duke played without the services of sophomore linebacker Kelby Brown, who suffered an injured leg last week at Miami. Brown entered the weekend as Duke's leader in tackles for loss (7.0) while ranking second on the team in total tackles (59).
Next Saturday, the Blue Devils will host Georgia Tech for Senior Day at Wallace Wade Stadium. The kick-off time will be announced tomorrow.