It's all tied at the top heading into the final month of the season!
Standings:
T-1. Andrew
T-1. Bob
3. Patrick -3
4. Guest -4
5. Mark -5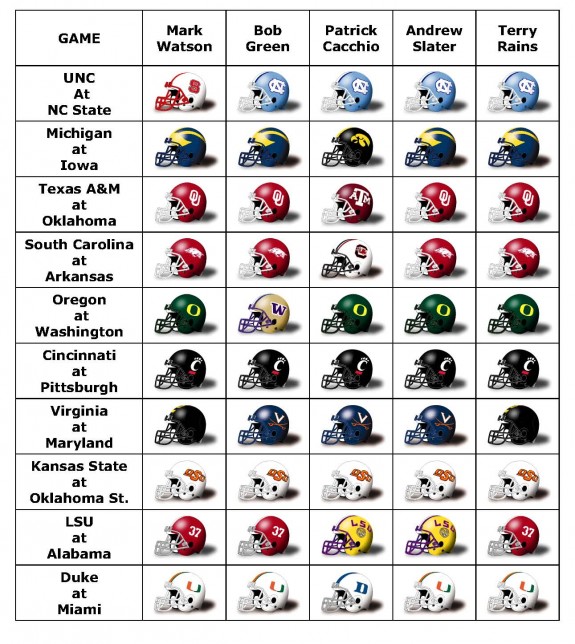 Mark Watson - The Blue Devils continue to get close to victory but they seem to catch teams at the wrong time and that could be the case against Miami coming off a home loss to UVA. In short, the Hurricanes will not overlook Duke. The line favors Miami by 16.5 but we feel Duke will play them closer. The Blue Devils will get another win, just not this weekend. Miami 28, Duke 19
Bob Green - Miami has a potent offense and I present the 21 points they scored in the 4th quarter against Virginia Tech as exhibit one. For exhibit two, I present quarterback Jacory Harris who is second in the ACC in Passing Efficiency with a 161.8 rating, and for exhibit three, I present their balanced attack, which has scored 27 touchdowns with 16 coming via their passing offense and 11 via their rushing offense. To complement the offense, Miami's defense is ranked number three in the ACC in Scoring Defense allowing 22.1 points per game.
Duke's defense played an outstanding 60 minutes of football against Virginia Tech and they will need a repeat performance if the Blue Devils are going to travel to Coral Gables and beat the 'Canes. However, the offense must get on track and score points. Duke is 11th in the ACC and 92nd in the FBS in Scoring Offense averaging 22.9 points per game.
Miami will be fired up to get back on a winning track after being upset by Virginia in their last outing. Duke is a much better team than their 3-5 record indicates, and they will give the 'Canes a battle for three quarters, but in the end Miami will be too tough for the Blue Devils to handle in the 4th quarter. Miami 34, Duke 23
Patrick Cacchio - It's only a matter of time until this Duke team breaks through; why not this week? After coming away empty-handed from two solid efforts against Wake Forest and Virginia Tech, the Blue Devils are hungry for an upset. The Hurricanes are coming off a disappointing home loss to Virginia and have had 8 days to prepare. Star RB Lamar Miller has fallen short of the 100-yard mark in each of his past three games, and Matt Daniels and the resurgent Duke defense will look to continue that trend. Meanwhile, expect Sean Renfree and the Blue Devil offense to get back on track this week with an aggressive gameplan against a Miami secondary that has only 4 interceptions on the season. As always, the margin for error is small, and the Blue Devils will have to win the explosives battle to stay in it. Expect another big homecoming performance from Varner and Vernon as Duke will shock "The U." Duke 31, Miami 28
Andrew Slater - The Blue Devils defense stepped up against national power Virginia Tech last week, but Miami will be looking to bounce back for a homecoming victory this Saturday. Jacory Harris and RB Lamar Miller will try to provide the Hurricanes with more of a balanced attack in Coral Gables. Last weekend, Miami's 6'5" junior WR, Tommy Streeter, broke out for a career day (176 yards) against UVA. It should be more of a shootout than last weekend. Miami 31 Duke 21.
Terry Rains - Duke's stay at Heartbreak Hotel continues. While most outlets predict a double digit Miami victory, I think Duke is going to make this a close game - possibly even with a chance to win it late! Miami 30, Duke 27