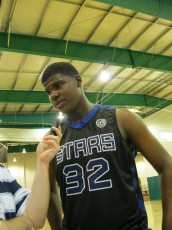 Miller Grove stumbled mightily during the recent City of Palms event and to some degree, so did Tony Parker.  The big man prospect with soft hands and a good paint presence took time to talk with Blue Devil Nation about his teams struggles and how they would bounce back.  But Parker has four or maybe even five programs sitting on pins and needles awaiting his decision, one that has been delayed time and time again and a process that has confused many analyst.  Parker is a key prospect for the Duke Blue Devils and they offered him early on and have been sure to let him know he was there man, even dropping other players from their radar.  But Parker likes Ohio State a lot as well and there are many who feel there is a split with those who are helping to make the decision.  On the west coast, UCLA is hoping he wants to join them with Shabazz Muhammad.  And Kansas?  They're making a late run as well but it may be too little too late, or is it?  And Memphis.  Will they get his fifth visit.  Parker shed light on when he could make a decision and BDN has some answers to many burning questions and the latest from Tony Parker via correspondent, Travis Boyd in out latest BDN Premium Interview.  And keep in mind that we are running a 20% off special on a yearly membership through December 26th, which translates into eighty bucks for a years worth of inside information and full site access, so take advantage and join today and next up is Ricardo Gathers - Mark Watson
For those who've yet to see you play, can you describe your game in your own words?
Well, (pause) for those who saw me play just now, that wasn't my game at all, but as a team we've just got to regroup and get back to the fighting mode.  I like to play hard, run the floor, finish strong and just get everybody going.
With all the schools looking at you and Miller Grove losing three games and your play, is that effecting you?
It's really not effecting me, it's just finding myself and ourselves as a team.  We've got a great team, we've got great guys, so this is a little bump in the road and this is probably the best thing that can happen to a strong team because we'll come back even stronger.  We've got a big game coming up, so this is behind us now and we're going to go back to Atlanta and we have a lot of wok to do to get back to Miller Grove basketball and get back to playing how we play.  We've got seven seniors and are finding our way right now.  We're going to be strong and be a pretty good team at the end of the year.
And your school list is …
Ohio State, Duke, UCLA, Kansas and Georgetown.
Who has been the  (and this is where we get to the latest on Tony P)



Sorry, but you must become a premium subscriber to view the rest of this post.

Join now by visiting the PREMIUM MEMBERSHIP link at the top of the page, where you can learn more about the benefits of a Blue Devil Nation Premium membership.