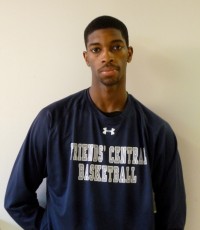 Amile Jefferson is a versatile, cerebral Philadelphia forward with a decision that is day-to-day. That decision has been heightened by the fact that the current accelerated recruiting process leaves, as early as mid-January, a very limited number of high-caliber forwards currently available.
At 6'7″ and blessed with enough athleticism, skill, and quality grades that he can legitimately be recruited by any college in the nation, Jefferson has been on Duke's radar for several years. Before his sophomore year at Friends' Central, a Quaker school in Wynnewood, PA, Amile was one of two rising sophomores who attended Duke's Elite Camp. In the autumn of his junior year, Amile watched Duke unveil its fourth National Championship banner at the Countdown to Craziness. Recently, Blue Devils Coaches Krzyzewski and Collins have heated up their recruiting level from a courtship to a passionate pursuit, flying up to watch him play in person this past week.
After a tough triple-overtime loss to the Westtown School, Amile tried to lead his undersized Friends' Central team to a victory over Saint Mark's, a Massachusetts boarding school featuring 7′ Kaleb Tarczewski, an Arizona commitment, and 6'5″ wing Nik Stauskas, a Michigan signee. The normally efficient Jefferson was effected by getting routinely double and triple-teamed as soon as he caught the ball, primarily by the help defense of Tarczewski. Amile finished 6 of 14 from the field for fourteen points, grabbed five defensive rebounds, and had two assists in the 67-57 defeat at the hands of St. Mark's.
Following the game, amongst other things, Amile talked about how the team will look to rebound for its playoff run as he seeks his fourth consecutive state title, his imminent decision of college matriculation, the word "potential," the Blue Devils' pursuit, and the commonality between Friends and Duke University.
What are most schools recruiting you as? A pure four or one that can play both the four and the three?
I think most schools are recruiting me for my versatility of being able to play the three and the four. I don't mind banging inside, but, at the same time, I feel like I have the skill set to be able to step out and either hit that mid-range jump shot or take a player off of the dribble.
How (in depth one on one interview with Amile ahead for members!  Join BDN Premium today and be in the know.)



Sorry, but you must become a premium subscriber to view the rest of this post.

Join now by visiting the PREMIUM MEMBERSHIP link at the top of the page, where you can learn more about the benefits of a Blue Devil Nation Premium membership.
This post is also available for individual purchase, but you need to login or register first.