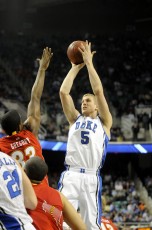 On a night when Duke hit just 3 of 15 from three point range, stellar free throw shooting and a huge effort from Mason Plumlee helped them gain a 74-61 win over Maryland.  The table was set for an upset and the Maryland crowd was as laying in wait in crazed droves but when you knock down 17 of 18 free throws on the road, you eventually silence them and that's just what the Blue Devils did.
Speaking of free throws, Mason Plumlee went 5 of 5 from the stripe and dominated the Terps in the paint, scoring 23 points to go with 12 rebounds, 4 assists and a late game block.  It was perhaps the juniors most efficient game as a Blue Devil and his performance helped Duke fo to 5-1 in the ACC and 17-3 overall.   His 23 points were his most in an ACC game and his second career 20 point game.
After being down early, Duke rode their post play and ultimately gained a 37-34 halftime lead and that momentum carried over into the second half where the Blue Devils eventually found a working margin.  That working margin came when they started getting scoring from their guards, namely, Austin Rivers.
The Duke guards of Curry, Dawkins, Rivers and Thornton had just 4 combined points at the half, but Rivers found the open lane for 8 2nd half points.  Thornton would later add some key points to help Duke hold onto a late lead and Curry and Dawkins both had off games combining for just 3 of 15 from the field.
The Blue Devils also received a good effort from junior, Ryan Kelly who went an efficient 5 of 7 from the field to go with 4 boards and 3 blocked shots.  Miles Plumlee added another 7 points and Josh Hairston 2 to round out the scoring for the Blue Devils.
The Blue Devils took advantage of their height and outrebounded Maryland by 5 and they went down low early and often adjusting to the defense designed to push them off the 3 point stripe.  In short, Duke took another teams best shot and came out with a huge road win in a most hostile environment.  And to make their win more impressive. Quinn Cook stayed home with a bruised knee and fellow freshman Michael Gbinije kept him company being sick himself.
The defense showed up as well for Duke, holding Maryland to 27 second half points after they cut off some of the passing lanes int he post.  They also held Maryland to 40% from the field and 61 points.
The Blue Devils are more than happy to come away with the win with just eight scholarship players available. And this is the kind of win that takes the some of the sting out of their upset loss at home to Florida State.  The Blue Devils head back to Durham where they'll play their last out of conference game against St. John's on Saturday in Cameron Indoor Stadium.  Duke improved to 111-61 in the all-time series against Maryland, which started in 1926. Duke has now won four straight in the series and 10 of the last 11 games
Team Notes:
• Mike Krzyzewski improved his career record against Maryland to 52-21. Coach K is 22-10 all-time in College Park, Md.
• Duke won its third straight ACC road game. Duke is 9-2 when playing away from Cameron Indoor Stadium.
• Duke has now won 13 consecutive games following a loss and is now 21-2 following a loss over the last five seasons. Duke has not lost back-to-back games since Feb. 11 & Feb. 15, 2009.
• Junior forward Mason Plumlee had the best game of his career, recording a double-double with 23 points and 12 rebounds while shooting 9-of-13 (.692) from the floor.
• Duke had one of its best free throw shooting performances in school history, finishing 17-of-18 from the line for a .944 percentage. That ties for the 10th highest mark in school history and the team's highest mark since March 6, 201 (22-of-23, .957).
• Duke outscored Maryland 40-28 in the paint, thanks largely to the production of brothers Mason and Miles Plumlee. Those two dominated the paint early, combining for 18 points, and eight rebounds in the first half while sinking 7-of-9 shots.
• Duke played without freshman point guard Quinn Cook (illness) for the first time. Junior Seth Curry and sophomore Tyler Thornton split time at the point and combined for 15 points, four assists and two turnovers. Curry and Thornton combined to hit eight straight free throws over the final 1:17.
• Duke, which leads the ACC in three-pointers made (158) and three-point percentage (.400), made just three treys in the game. The 3-of-16 performance yielded a .188 three-point percentage, which was the lowest of the season.
• The Blue Devils held Maryland guard Terrell Stoglin, the ACC's leading scorer with 21.2 points per game, to 16 points. Stoglin, who also ranked third in the ACC with a .410 three-point shooting percentage, went 0-of-4 from three-point range.
• Duke did not miss a free throw until 6:19 remained in the game.
• With just over two minutes into the second half, Duke pulled in three consecutive offensive rebounds on one possession and eventually converted the extra opportunities into a three-pointer by Ryan Kelly. Duke missed its first three three-point attempts during that scoring opportunity before Kelly finally knocked one down to put Duke ahead 42-38 with 17:34 remaining.
• Duke trailed 47-46 with 12:55 remaining in the game, but opened up a 10-2 run to claim its biggest lead of the night at the 8:52 mark. Duke went 5-of-7 from the floor during that run and got a three-point play from Mason Plumlee.
Player Notes:
Seth Curry
• Made his 33rd consecutive start. Duke is 27-6 during that 33-game start streak.
• Saw more time at the point with Quinn Cook out due to an illness. Curry scored eight points on two field goals and a 4-for-4 performance from the free throw line.
Andre Dawkins
• Hit a three-pointer for the sixth straight game. Dawkins leads Duke and ranks second in the ACC with a .409 three-point percentage (min. 90 att.).
Ryan Kelly
• Recorded three blocks in the first half, including rejections on back-to-back layup attempts by Maryland forward James Padgett. Padgett attempted his first layup two feet from the basket and was blocked by Kelly, but grabbed the rebound. He tried again and was blocked by Kelly for a second time, giving Duke the ball in the process.
• Scored in double figures for the 13th time this season with 14 points of 5-of-7 shooting. Kelly has scored in double figures in four of Duke's six ACC games and is averaging a team-leading 13.7 points per game since Duke opened conference play.
Mason Plumlee
• Made his 41st consecutive start. Duke is 34-7 during that 41-game streak.
• Had his best offensive performance of the season, going 9-of-13 from the floor on the way to an ACC career-high 23 points. Plumlee scored 12 points in the first half and 11 in the second.
• Recorded his team-leading eighth double-double of the season, matching his 23 points with 12 rebounds. Plumlee is tied for the most double-doubles in the ACC alongside North Carolina's John Henson.
• Continued his improved free throw shooting, going a perfect 5-of-5 from the line. Over his past four games, he is 15-of-18 (.833) from the FT line.
• Converted his sixth three-point play of the season and his third in the last three games. Plumlee also threw down three dunks.
Miles Plumlee
• Contributed seven points and four rebounds in 18 minutes of action. Plumlee has at least seven rebounds in seven games this season.
• Finished an efficient 3-of-4 from the floor to improve his team-leading shooting percentage to .671. Over halfway through the season, Plumlee is on pace to finish among Duke's top three in that category if he can meet the 100 made field goals threshold. He currently has 53 made field goals this season.
Austin Rivers
• Scored in double figures for the team-leading 16th time this season.
• Took over in the second half, scoring eight of his 10 points on 4-of-6 shooting. Rivers attempted just one three-pointer in the second half, instead getting all of his production on driving layups and a runner.
Tyler Thornton
• Converted his second career three-point play with just over one minute remaining in the first half. Duke led 34-32 before Thornton sank a driving layup after contact and then knocked down the ensuing free throw.