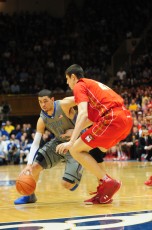 Austin Rivers became the fourth player in ACC history to win the conference's rookie citation in four straight weeks. The selection upped his season's selection total to seven; that's good for third place in the 42-year history of the award.
In two games last week, the 6-2 freshman from Winter Park, Fla., averaged 20 points a contest on 9-for-16 3-point shooting and played 79 of a possible 80 minutes. The performances were highlighted by a buzzer-beating 3-pointer from the right wing that capped his own 29-point game and his team's comeback from a 10-point deficit in the final two and a half minutes as Duke won at North Carolina 85-84 on Wednesday. The point total is the highest by any Duke freshman in the 233-game history of the series against the Tar Heels.
Three days later, Rivers had 11 points, four assists and only two turnovers in a 40-minute outing against Maryland.
No player has won the Rookie award in more than four straight weeks. The others at four are North Carolina's Tyler Hansbrough, who had two separate streaks during the 2005-06 season; Dion Glover of Georgia Tech in December of 1997; and another Yellow Jacket, Kenny Anderson, in 1990.
In all, Rivers has become the third player to earn the rookie distinction seven or more times. Hansbrough and Anderson hold the record with 10.
At 15 points a game, Rivers leads Duke in scoring and would be the first Blue Devil freshman to do so since Johnny Dawkins in 1982-83.
Courtesy ACC Media services