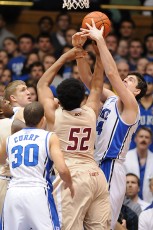 The Duke Blue Devils (22-4, 9-2) headed north today to prepare for tomorrow evenings game against  Boston College (8-18, 3-9).  This is a game where the Blue Devils are heavily favored and for good reason.  The Eagles have won just one of their last 10 games, but that one win was over Florida State at home, so anything can happen if you overlook a team.
The problem for the Eagles is that Duke will not overlook them and there is just too big a difference in talent to think another upset is in store.  At the same time, this is one of those dreaded Sunday road games where the team just wants to get a win and then head back to Durham to prepare for the rematch with Florida State.
It's unknown whether Seth Curry will play or not after twisting his ankle but regardless, this will be a game Duke should control from the outset if they get out to a lead.  The Eagles want to keep this game in the 50's and they'll employ a methodical style trying to accomplish this.  The Eagles are led by Ryan Anderson, one of the better freshman in the league. He'll get help from fellow freshman Dennis Clifford and Patrick Heckmann, while junior Matt Humphrey provides leadership.
Duke should control the paint and will likely go to the Plumlee brothers, Mason and Miles early and often.    The Blue Devils half court defense will be key in that the Eagles only run if they can and that is not often.  Even on the road this game looks like a huge mismatch for me.  If Duke pushes their three point shooter off the line, they'll succeed.
No need for heroics in this one.  Look for Duke to dominate the boards and cruise to a 77-58 win.