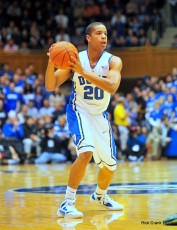 When the Blue Devils take to the court this evening in Atlanta they'll face a hungry Virginia Tech team that will fight tooth and nail to pull off an upset.  The Hokies stand at 16-16 and they need a win to qualify for a NIT berth.  The Hokies have for the most part have caught a lot of bad breaks this season and most of their losses have been close and they hope their 68-63 win over Clemson is a stepping stone to remain alive.
Erick Green played with a chip on his shoulder tallying 24 points as the games high scorer.  Duke will need to keep him in check for he drove the lane at will against Clemson, hitting a critical bucket down the stretch.  The Blue Devils must also find a way to slow Dorenzo Hudson who played well against them in Cameron and the senior will lay it on the line with his career on the verge of ending.
The Hokies had a lot of success on second chance points, so blocking them out will be a key for the Blue Devils as well.  With Ryan Kelly sidelined, the front court loses a good bit of depth, their third leading scorer and more importantly five fouls.  In short, Mason and Miles Plumlee must not get into early foul trouble or it could flat out spell trouble.
Duke will likely go to their bench in this game and they need some kids to step up their game.  It would be nice for Duke to see Andre Dawkins go off after a couple of lack luster games.  But the game will come down to the Blue Decvils guard play and all eyes will be on Seth Curry and Austin Rivers, the ACC Freshman of the Year.
This will be Rivers first shot at tournament basketball and how the freshman reacts to the spot light will play a huge factor in the game.  The Hokies would like to see this game in the 60's, so Duke must implement their own tempo but all signs point to a defensive game and there is no reason to think this game will not be a hard fought battle.
Look for Duke to take a little while to adjust to their surroundings but once they do, I think they'll pull ahead and come away with a tough opening game win to advance in the ACC Tournament.  Our pick is Duke 70 Virginia Tech 63.