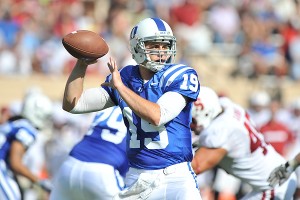 DURHAM, N.C. – Quarterback Sean Renfree completed 15-of-19 passes for 135 yards and two touchdowns while wideout Blair Holliday caught eight passes for 84 yards to highlight Duke's 60-play scrimmage Saturday morning at Wallace Wade Stadium.
"We really got what we wanted out of it," said Duke head coach David Cutcliffe.  "We wanted to extend play. We've done a lot of fundamental work. This is practice nine. Probably more fundamental work and less team work than we've had in any time since we've been here. But we've worked on some of the 'how' before we were doing the 'what'. I think it's paid off. It's paid off with players like Blair Holliday, who you can just see has jumped leaps and bounds from where he was. It's paid off in a lot of our offensive and defensive linemen – first team and second team."
Renfree's two scoring throws covered eight and 15 yards, respectively, to Jamison Crowder and Holliday.  Crowder finished the day with six grabs for 67 yards.  Running back Josh Snead spearheaded the ground attack with 61 yards on eight attempts, including a one-yard touchdown plunge, while quarterback Brandon Connette rushed five times for 29 yards with a nine-yard touchdown.
"The coaches have shown great trust in all our receivers," Holliday said. "We changed our offense around a bit where every receiver needs to know the positions; every receiver needs to come up and make big plays. It really just shows how much trust they have in us to put us out there and make plays."
The final scoring play of the morning came on a 40-yard strike from Connette to tight end Issac Blakeney.
"Issac Blakeney and David Reeves are two very young tight ends that I can see now all of the work they've put in," Cutcliffe noted.  "If I had to probably pick one thing that the naked eye caught was Sean Renfree. He was a senior quarterback today. He was really sharp, and not just in the scrimmaging parts. From the first part of practice on -- I watched him through seven-on-seven -- everything was at a very high level. A lot of encouragement today."
Safety Walt Canty registered the lone turnover of the day with an interception.  Kicker Will Monday booted a 26-yard field goal along with a pair of PATs.
Duke will host the annual Spring Game presented by PNC Bank on Saturday, March 31 in Wallace Wade Stadium.  Kick-off is set for 1 p.m. and admission is free of charge.