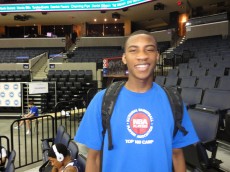 The Duke Blue Devils fan base is excited about Rasheed Sulaimon coming to Duke this coming season and he is excited as well.  BDN Premium caught up to Sulaimon yesterday, hot off his 18 point performance where he keyed the West squad to a win in the famed McDonald's All American game.  Sulaimon, of course, won the three point shooting contest as well.  We discussed a myriad of subjects which included his play and the staff and fans reaction to his play and what he will work on now that he is back home.  Sulaimon touches on recruiting where Duke is in hot pursuit of Amile Jefferson, Shabazz Muhammad and Tony Parker and his relationship with them.  He also talks of getting a challenge from Duke assistant coach Chris Collins after he won the three point shooting contest and what Coach K has him working on in another in depth interview from BDN.
Congratulations on winning the three point shot contest at the McDonald's All American Game, that was awesome. What are your thought and what was going through your mind as you were competing?
I was nervous to begin with but once the buzzer rang I just started to focus and found a rhythm and kept shooting and they were just going in. After the first round I knew there was a really good chance I could win it and my confidence was high and I felt like I was the best shooter going into the competition.
Your family had to be really happy for you. What was their reaction?
My parents were very excited that I won and that my hard work payed off.
Have you been able to talk with any of the Duke coaches since that happened? Did anybody like text you and say congratulations or that kind of thing?
Yes, yes. I talked with all the coaches and they


Sorry, but you must become a premium subscriber to view the rest of this post.

Join now by visiting the PREMIUM MEMBERSHIP link at the top of the page, where you can learn more about the benefits of a Blue Devil Nation Premium membership.