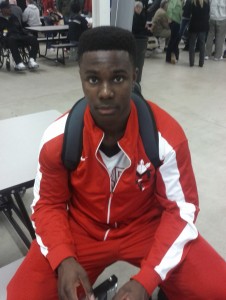 We are what we repeatedly do. Excellence, therefore is not an act, but a habit.
-Aristotle
Semi Ojeleye was born in Overland Park, Kansas and his family's tale is one of the American Dream. His father, Victor, arrived in Kansas from Nigeria, looking to do an internship and residency at the University of Kansas Medical Center. Dr. Ojeleye now operates as a family physician in Ottawa, Kansas, roughly fifty miles south of Kansas City, Kansas, with his wife, Joy, a registered nurse.
The Ojeleyes had two boys, Victor and Semi. Victor, the oldest, was heavily involved in community service, became Ottawa High School's all-time leading scorer, and was valedictorian of his graduating class. After not receiving much basketball interest coming out of Ottawa high school, he opted to do a postgraduate year in North Carolina, where he played under veteran coach, Chris Chaney. It was there that then Kansas St.  assistant coach, Dalonte Hill spotted the 6'5" Ojeleye and ultimately convinced him to walk-on for his home state Kansas State Wildcats. Victor wound up being a reserve player for the Wildcats, led his teammates in Bible studies, and was an All-Academic Big XII winner in each of his three seasons, culminating in this season's inaugural Dr. Loge Award for the Big XII Conference's highest academic honor. This May, he will receive his degree in Finance and Accounting before joining Koch Industries.
Semi Ojeleye was blessed with the same genetics and work ethic as Victor. He's been a 4.0 student, but will shatter Victor's basketball records for the Ottawa Cyclones. The 6'6" wing averaged nearly nine rebounds and thirty-three points per game this season, never scoring below twenty-five in a single game, while leading Ottawa (KS) to a third consecutive Class 4A State Title game. The high water scoring mark for this season came when he knocked down eight three-pointers and hit all ten of his free throws for a  fifty point game and a win in front of Missouri Coach Frank Haith.
This season, Semi, a devout Christian, played all five positions for Coach Jon McKowen's Cyclones and knocked down seventy-eight three pointers at nearly a forty percent clip on the season. In the state semi-final game, Ojeyele grabbed fourteen rebounds and scored thirty-two points. In, ultimately, a close 56-52 loss to Basehor-Linwood in the Championship game, Ojeleye, who has tried to slowly convert himself from more of a post player to a perimeter force, scored thirty-two points and snagged twelve rebounds. For his efforts, the 6'6" junior, who now has 1,811 career points and helped his team to a 24-2 final record, earned an All-State distinction.
This AAU season, Semi, who would like to major in engineering, will once again compete with Mo-Kan Elite on Nike's EYBL circuit. The past two weekends, at least one Duke coach has observed his playing. This weekend, Duke Coach Mike Krzyzewski watched the versatile wing play in person. He is scheduled to visit UCLA and Wisconsin, the first high-major school to offer him a scholarship, in the coming months, but is hoping that his play this AAU season will garner more interest beyond the primary Big XII and Pac-Twelve options.
 Semi spoke with me after a close EYBL game about a variety of issues.
Let's start with your background. 
My parents are from Nigeria, but I was born here.
In Kansas
Yeah, in Overland Park. My father came over to be a doctor.
Oh, well, congratulations.
Thank you.
Were you in a bit of a zone that day when you had the fifty point game?
Oh, yeah, my teammates got me involved and I just had my stroke that day. I just thank God because it was just one of those times when everything just clicked. 
Last year, I thought you had more of an inside game than an outside. Do you feel like you've expanded your game and developed more of a mid-range game?
Well, I'm 6'6." So, I'm not going to play center at the next level and I felt like I had to adjust. I feel like I'm going to become a guard. So, I felt like I had to develop more guard skills. So, I had to work on my handling and my shooting a lot.
 [private]
And have you improved?
Yes, I feel like I have.
Academically, I heard you were a 4.0 student. Obviously, your father is a doctor, so genetically, you should be a good student.
(laughs) Yeah, I take pride in my work and my academics. I want to have something that I can fall back on, because I know how difficult it is to make it to the professionals.
Your older brother is at Kansas State. What advice has he given you about going through this process?
Yeah, he's been a good big brother to me. He's gone through the whole thing and he's taught me how much more physical it is and how rigorous it is and how I have to keep getting my body in better shape. My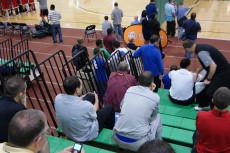 Day Two of the Nile EYBL Session II is in the books and it was a long one where the coaches were in the gym all day and night. It's hard to figure out where to start tonight in that my head is swimming from information overload. Let's start with Tyler Ennis who is still [private] on the radar and while he is listed as a PG, he shows off more shooting guard skills to me despite being just 6-3. I spoke with him after his game. And then there is Andrew Wiggins who if NBA rules allowed would go straight to the league. Of course Duke has interest but this will not be an easy get, so I would call that interest somewhat luke warm in that they know it would be quite the battle.
I was impressed with Wayne Selden (2014) today and he's going to be a good one, I secured a video chat with him. Duke has a lot of interest in him but it is too early for them to concentrate on that class which includes Theo Pinson. The interest is there for Pinson but they know he is a long ways from making his decision.
Boo Williams continued their slide and will likely not make it to the Peach Jam or the EYBL finals, dropping to 2-7 with a loss to Mokan. Al Freeman has not been impressive in the event which I said from day one and I have yet to see him use his potential in a good way. When his offense struggles he allows it to effect his whole game and while he had a good game tonight shooting the ball, his other stat totals were again, non existent. I don't think Boo uses him right. Anthony Barber is good, but not good enough to earn an offer at this point. He is a PG that cannot really pass that well and the chemistry with Freeman ia average at best. And Try Williams continues to regress with many questioning his work ethic.
Julius Randle improved his stock and that is hard to do when you are ranked 2nd in your class. His handle is nice for a big man and he dominated when he did take it to the paint. He told BDN he had so many triple teams he decided to take his game to the perimeter and it seems to be working. Yes Matt Jones is better and he told BDN he is now 6-5 but the same weight. I have vid interviews with both.
I spoke with ex ACC official Larry Rose for a good long time and what a chat we had. He is head of MEAC officials now. I laughed at him being ragged in Cameron back in the day.
I watched a bit of Jahlil Okafor and his game is about the same as it was a year ago in that he needs to be more aggressive. A ton of folks really pick my brain about Duke now and I found myself giving disinformation to a couple of the more obnoxious types:)
Semilore Ojeleye. Semi is pronounced Shimi. I sat with Coach for part of his game and he like him a lot as do the assistants. I was tipped off they thought he could be offer material on Friday and had a brief chat with him on video. Great kid. His game? Nice. Great stroke from 3, solid, strong finisher on dunks. Listed at 6-7, but said he is 6-6. And guess who he pulled for when he grew up but don't they all;(. Anyhow, love his game and want him in royal blue. Unique player with incredible background, smart, solid student -- the whole package.
Ish Wainright is a defender supreme who can guard almost anyone and wants all challenges. Coach wants to see more offense from him. He was a beast tonight and hit a three point shot at the buzzer and Team Takeover finally won and that meant we got to talk to him, yay. Yes, that was sarcasm in that his coaches are a trip an then some.
Coach was upset about the injury to Derrick Rose and spoke of the challenges in filling the Team USA roster. Of course. Dwight Howard is out too but all the studs are expected to play. He's been on the road non stop and came in late from Arkansas where he saw Austin Nichols score 35 points, grab 15 rebounds and swat 7 shots away in a single game. Yeah, he's good.
Okay, that's all I have got off the top of my head but I have yet to get to my notes. I will close it out tomorrow before taking that four hour ride back, so do not expect a whole lot on Sunday evening. However, the video interviews will balance well with Andrew and the many interviews he still has. [/private]