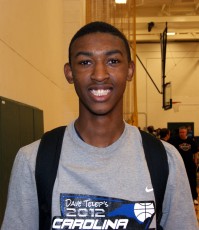 A name which popped up during the recent Carolina Challenge was Chris Hairston, a 6-7 lithe forward who professed his love for the Duke Basketball program.  His dream school is Duke and the prospect is now on the rise but whether he gathers true interest will depend upon him blowing up on the summer circuit. 
Suppose I had never seen you play.  How would you describe your game to me?
I have a little bit of everything in my game, a jack of all trades  who is not trying to master one thing but multiple things.  As of right now I'm just trying to do everything in an above average manner.
What area of your game do you feel needs the most work?



Sorry, but you must become a premium subscriber to view the rest of this post.

Join now by visiting the PREMIUM MEMBERSHIP link at the top of the page, where you can learn more about the benefits of a Blue Devil Nation Premium membership.