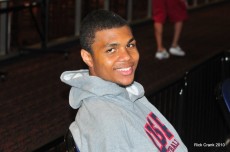 DURHAM, N.C. - Duke freshman Michael Gbinije will transfer out of the program, school officials announced on Monday. The Chester, Va., native averaged 1.7 points and 0.8 rebounds per game while playing in 19 contests last season. Gbinije leaves Duke in good academic standing and is expected to transfer to another Division I school.
"We wish Michael [Gbinije] the best of luck and we will support him through his impending transfer," said head coach Mike Krzyzewski. "He is a talented player with a solid future ahead of him."
Gbinije shot 55.0 percent (11-of-20) from the floor and made all seven of his free throw attempts as a freshman. He scored a season-high eight points and added three rebounds in a Dec. 19 win over UNC Greensboro.