Archives by date
You are browsing the site archives by date.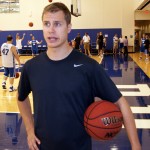 By Terry Rains on May 31, 2012
BDN caught up to former Duke Blue Devil Jon Scheyer during the Coach K Academy which is taking place in Durham this weekend.  Scheyer speaks of his latest plans and taking another shot at the NBA this coming season in our latest video offering.
Posted in Duke Basketball | Tagged Former Duke star Jon Scheyer, Jon Scheyer at K Academy, Jon Scheyer eyes the NBA, Jon Scheyer talks whats next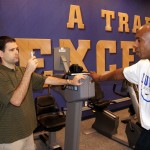 By Terry Rains on May 30, 2012
 Blue Devil Nation correspondent, Terry Rains, goes one on one with former Duke and National Player of the Year Jay Williams at the 10th Annual Coach K Academy in Durham, North Carolina.  The Academy is a chance for men 35 years of age and older to compete in the ultimate Duke Fantasy Camp.  JWill still […]
Posted in Duke Basketball | Tagged ESPN Analyst Jay Williams, Jay Williams chats with BDN. Jay Williams talks hoops with Blue Devil Nation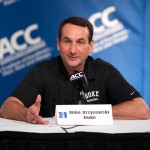 By Mark Watson on May 30, 2012
The tenth annual Coach K Academy is underway and that means the media gets a little time with Duke Head Coach Mike Krzzyewski.  I asked him a question about his busy summer schedule and here is his response, via BDN Video:
Posted in Duke Basketball | Tagged Coach K talks busy summer, Coach K talks Coach K Academy, Coach K talks USA Basketball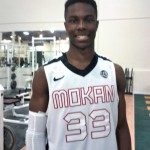 By Andrew Slater on May 30, 2012
This weekend, Semi Ojeleye helped lead his Mo-Kan Elite team to a 5-1 record, guaranteeing them a coveted trip to the Nike Peach Jam in July. The cerebral 6'6″ wing, who was profiled last month averaged nearly eighteen points and six rebounds in the Oakland session of the EYBL. The sole loss occurred against a […]
Posted in BDN Premium Articles, Duke Basketball Recruiting News | Tagged BDN's Andrew Slater speaks with Semi Ojeleye, Duke Basketball Recruiting News, Ojeleye shines at NYBL, Semi Ojeleye, Semi Ojeleye to visit Duke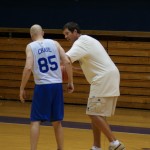 By Mark Watson on May 28, 2012
I hope that all of you are having a great Memorial Day weekend and that you are all fresh and ready for the coming coverage at Blue Devil Nation. We have had Andrew Slater in Oakland, California all weekend long covering Nike EYBL Session 4 and he has updated via his twitter site but the […]
Posted in Monday Musings | Tagged Coach K Academy, Duke althletes earn honors, Duke Hoops recruiting reports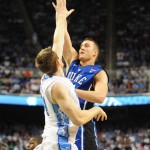 By Mark Watson on May 24, 2012
The news went public this week that Miles Plumlee has been invited to the NBA Combine in Chicago, Illinois. This is a great opportunity for the eldest Plumlee to show off his skills and the plan is to impress the numerous team scouts that will be in attendance. Plumlee settled on Mark Bartelstein of Priority Sports and Entertainment as his […]
Posted in Duke Basketball | Tagged Duke in the NBA Draft, Miles Plumlee eyes NBA, Miles Plumlee NBA Draft Combine