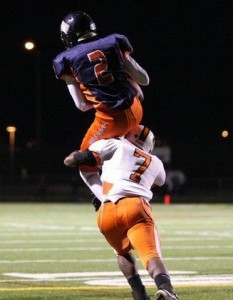 With this year's graduation of All-ACC safety Matt Daniels along with CB Johnny Williams, and with the impending departures of seniors Walt Canty, Jordon Byas, Lee Butler, and Tony Foster, it's safe to say that the Blue Devils will be looking to reload their secondary in the class of 2013. They're already off to a great start with the commitments of Evrett Edwards, Quay Mann, and Jake Kite, but a few other players remain near the top of Duke's recruiting wish list. One such player is Malik Rucker, a 5'11" 175 pound defensive back from New Hope, Minnesota. The Blue Devils are not alone in pursuit of the talented athlete, as Rucker has already racked up 17 offers so far this spring. BDN caught up with the talented defensive back to get an update on his recruitment and his relationship with Duke.
[private]
BDN: How would you describe your strengths as a player?
As a player, I think I bring a lot of energy to the team. I feel like I play hard and that helps other players around me play hard. I'm a leader on the field and I think I'm good at running the alleys and getting to the ball, I have a nose for the ball. I think that's what my strengths are as a defensive back, getting to the ball and running the alleys.
BDN: What are you working on this offseason as you prepare for your senior year?
I've been working on a lot of little things like my footwork. I think I have pretty good footwork now, but I'm just working at getting it better, just attacking the ball, getting out of my breaks better and a lot of the smaller things.
BDN: As you approach your college decision, what are the most important things you are looking for in a school?
When I go to the colleges, I like to see the atmosphere, I don't get to see the atmosphere every time, but I think that's going to be a big part of my decision; the atmosphere of the school, the people, and the academic support. I want to have a good defensive back that I get along with, because I'm going to be with him a lot, so I want a great defensive back coach that I feel comfortable around, not just the recruiter for my area.
BDN: Where do you stand with offers and interest from schools now?
I think I have 17 offers. From the schools that have offered, I'm in contact with all of them, basically, I try to talk to them as much as I can, try to get a call to them at least once a week, I'm in good contact with every school. The schools that I've been hearing from the most that haven't offered is probably Penn State, Cal, Pitt, and Arizona and UCLA.
BDN: You have schools all over the country recruiting you; is location an important factor to you or do you see yourself going anywhere?
I see myself going anywhere at this point.
BDN: Which schools have you had a chance to visit and which schools do you plan to visit this spring or summer?
I've been to Nebraska was my first visit of the spring, I got out to their spring practice. I've been to Minnesota, I've been over there a few times. Iowa and Iowa State, I went there. I went to Buffalo to see their practices and just this last week I went to NDSU and I stopped by UND for their spring game too. And I'm going to Kansas on Saturday.
BDN: Are there any schools that you have offers from that you plan to visit this summer or fall?
I'm not really sure because some of these schools that I have offers from are pretty far, so I have to figure out that. I want to get to every school that has offered me to see what they have to offer as a campus, their facilities, and their coaches, see how they act around me.
BDN: You mentioned the importance of your relationship with the defensive backs coach; are there any coaches that you have a close relationship with at this point?
I've been telling a lot of the schools that, so a lot of the coaches, I end up talking to a lot of the coaches, but I think I have a good relationship with Iowa State, Iowa, Coach Campo from Kansas, Coach Jones from Duke, and Coach Petercuskie from NC State. So a few of the schools that have offered I feel comfortable around them.
BDN: Do you have a timeline in mind for when you plan to narrow things down or make your final decision?
I think I'll make my decision when I feel the most comfortable and when it gets around the time to take my official visits, that's when I'll come up with a top 5.
BDN: So you plan to have a top 5 and take your official visits and then make your decision this fall?
Yeah.
BDN: Thanks a lot, Malik, and best of luck.
Thank you.
[private]