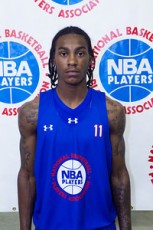 One of the more impressive players during the morning session of the NBAPA Top 100 Camp was Anthony "Cat" Barber, who tallied 16 points in his opener.  The consensus among talent evaluators is that he has been improving his already lofty stock.  Here is an interview with the budding star:


Sorry, but you must become a premium subscriber to view the rest of this post.

Join now by visiting the PREMIUM MEMBERSHIP link at the top of the page, where you can learn more about the benefits of a Blue Devil Nation Premium membership.