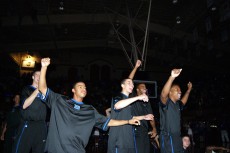 I wanted to take a moment to tell you about the benefits of joining BDN Premium, our extended subscription service, and urge you to join us.  Due to our dedication to full coverage and to our unparalleled access, many stories that are just now going public have been known by our members for some time already.
What do we mean by "full coverage?"  Well, I'm currently in Charlottesville, Virginia, covering the annual NBAPA Top 100 Camp, where I am concentrating on Duke prospects.  You can see our interviews, directly from Charlottesville, on the main page.  BDN was present at the Nike EYBL in Oakland recently where my co-analyst, Andrew Slater, was on top of every story and back story, as usual.  In addition to being a walking, talking encyclopedia of AAU basketball, Slater's in-depth interviewing is really unique in this industry.  You simply won't get the kind of information that he provides anywhere else.  Ask any BDN member to confirm what I'm telling you here -- trust me, they will.  Thanks to Andrew, we were all over EYBL.  BDN was also present at the Pangos All American Camp the week after EYBL, making it three straight weeks of onsite, in-person live coverage of key Duke prospects -- EYBL, Pangos, and now the NBAPA Top 100 here in Virginia.   This is illustrative of our philosophy here at DBN:  we feel you have to be there to truly cover Duke athletics in any kind of comprehensive way, so that's what we do.  That's how we get the one-of-a-kind interviews we get before and after the games, and on the recruiting trail.  We're there, and through us, you will be too.
While we are so fortunate to have a full staff of recruiting analysts and writers, of particular note with regard to football recruiting is Patrick Cacchio, who is our primary guy in that space.  His ability to not only obtain interviews with Duke prospects, but get them to open up for the benefit of our members, is unmatched.  He's been doing it for a long time, and he's not stopping now.  Our BDN Premium Football section is becoming the place to be for Duke football fans, as we are dedicated to covering not only recruiting, but the Duke football program from a 360 degree perspective.  This means everything from recruiting to weekly press conferences to sitting down with the coaches to game day coverage, and much more.
When it comes to coverage of Duke athletics, try BDN Premium and compare the site to any others out there, as we're confident you'll quickly realize the consistent quality you get from us.  Not only are we live and on-site, but we've also developed a network of sources and we deal with facts, leaving "unsubstantiated rumors" to their own place on the message boards where those types of rumors can be separated out from the hard facts we deliver.
That's not to minimize the value of our message boards, which are friendly, mature and inviting;  we like to look at the boards as a local pub which Duke fans can drop into and get the best information available.  But because our private message board is for members only, you will find up-to-the-minute updates on all things Duke, with a healthy dose of inside information from tried, true and respected reporters.
We are conscious of the fact that we can always improve, however, and in fact we do have some changes to our format planned for the near future in terms of the look and feel of the site.  But our coverage will continue to be intense, beginning with the upcoming N.C. Pro-Am, with which we have had a long and productive relationship.  We will also closely follow Team USA and Coach K as he and his troops go for another gold medal this summer.
Our annual subscription rate of $100 is by far the best deal of its kind for the type of information you get; we are confident that if you give us a chance, you will soon love how we "bring it" week in and week out.  And if you join for a year, right now I will sweeten the pot for you by sending you 20% of your money back.  So that translates into an all-time low price of $80 for a full year.  We also have a monthly option and other payment plans available.
Thanks for taking the time to read this and know that we want you as part of our community, so join today!  Once you do, ask us any question and we'll be glad to address it and provide answers you can bank on from a team of respected sources.  For full site access go to the Premium section at the top of the page.