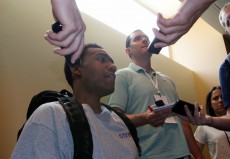 Make no mistake about it: Jabari Parker is the real deal, and that's why he's ranked as the top player in the nation.  Our premium members can check out Andrew Slater's one-on-one interview with Jabari, and now we have followed that up with this video shot just moments ago.  Parker has been swarmed by the media attending the NBAPA Top 100 High School Camp, but BDN Premium will take you behind the scenes all weekend long for the latest on Parker and other Duke


Sorry, but you must become a premium subscriber to view the rest of this post.

Join now by visiting the PREMIUM MEMBERSHIP link at the top of the page, where you can learn more about the benefits of a Blue Devil Nation Premium membership.