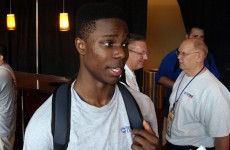 This past weekend's NBAPA Top 100 High School Camp in Charlottesville, VA was a different experience than in years past, and in many respects that was not a good thing.  Media access was restricted significantly, quality one-on-one interviews were very tough to come by, and the whole atmosphere was a tad flat.
Whether the reason was the coaches just failing to reach the kids, or the players themselves not bringing much energy, the result was some unusually uninspired basketball on a huge stage.  After a lackluster start to the event, the kids finally put their games into gear on the final day.  But the truth nevertheless is that more players hurt their ratings than helped themselves.
It's no secret that Duke had only a few real targets at the event, those being Jabari Parker, Al Freeman, and Semi Ojeleye.  Here's what I saw from those three as well as a number of others:
Jabari Parker - His skill set makes him a man among children. He can pretty much do it all on the court;  I saw no weaknesses in his game in the two games he


Sorry, but you must become a premium subscriber to view the rest of this post.

Join now by visiting the PREMIUM MEMBERSHIP link at the top of the page, where you can learn more about the benefits of a Blue Devil Nation Premium membership.