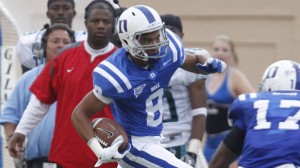 To date, the Blue Devils have added 13 for '13. The Duke staff has secured verbal commitments from a baker's dozen of rising high school seniors. It should be noted that the 2012 team is set to graduate just 12 seniors and redshirt-seniors (assuming Kenny Anunike stays for a sixth year), so even with some unavoidable annual roster attrition, the class of 2013 is mostly filled. Next week, the ACC will host its annual football kickoff at the Grandover Resort, and all attention will shift fully to the 2012 Blue Devils. Before we make that transition, though, it's important to take a look at the #dukegang class of 2013.
However, even before we do that, please continue to keep Blair Holliday and his family in your prayers. His family has requested privacy regarding his condition, and we ask that you respect their wishes. If you wish to contribute, you may do so through the Blair Holliday Recovery Fund, which has been granted a waiver by the NCAA. #Prayfor8
Defensive backs
Without a doubt, the strength of this class lies in the defensive backfield. Headlined by the highly-coveted Evrett Edwards (ESPN #38 CB), Duke has four verbal commitments from DBs in the class. At 5'11" and 175 pounds with a 4.4 second 40, Edwards continues to be pursued by some of the top programs around the country, holding 17 scholarship offers at last count. He most recently impressed at an Alabama camp, where Coach Saban reportedly called him one of the best cornerbacks he's seen. Jake Kite (ESPN #36 S) is an exciting prospect at the safety position, where he brings his hard-hitting athleticism to the Blue Devil secondary. Two sleeper in-state prospects round out the group thus far, and both are expected to put together big senior years this fall. Quay Mann (ESPN #70 CB), a preseason All-State selection, will play on both sides of the ball, plus special teams, for Northern Nash, while Breon Borders (ESPN #75) will star on a talented Statesville team. With the expected graduations of Lee Butler, Jordon Byas, Walt Canty, and Tony Foster, these four athletic DBs will have the opportunity to contribute early for the 2013 Blue Devils.
Wide receivers
For some prospects, rankings and ratings don't do justice to their abilities, especially for those that play multiple positions and become difficult to project at the college level. That's the case with the Blue Devils' 2013 receiver prospects, a group of four players who have each shown dynamic playmaking ability at multiple positions during their high school careers. The prized catch in this group is Johnell Barnes (ESPN #90 WR), a player who remains extremely undervalued and under-recruited, despite coming away with multiple camp and combine MVP awards this spring and summer. A well-rounded receiver with big-play ability, Barnes will be a very productive receiver in the Blue Devil offense. Darren Andrews (#135 ATH) traveled across the country to attend camp in Durham earlier this year, and it paid off, as he earned an offer. In high school, Andrews has been asked to play on both sides of the ball, and he showcased his abilities both as a receiver and a cornerback at Duke's camp. He'll likely be brought in as an athlete, and given the depth chart, he'll get his first opportunity at receiver. Both of Duke's remaining commits, Quay Chambers (unrated) and T.J. Douglas (unrated), have starred primarily at quarterback for their respective high schools. Their dynamic playmaking ability will be counted on as they make the transition to play receiver at the college level.
Offensive linemen
After bringing in a big lineman from Texas in the class of 2012 (Tanner Stone), the Blue Devils dipped into the Lone Star state again in the class of 2013, securing early commitments from Austin Davis (ESPN #6 OC) and Sterling Korona (ESPN #67 OT). The two Texans are firm in their commitment to the Blue Devils, and will anchor the Duke offense for years to come. Gabe Brandner (ESPN #127 OT) is another of the Blue Devils' undervalued commitments, most likely due to relative underexposure playing for a private school in South Carolina. Brandner is a strong athlete who could easily play tight end, but has the frame to add weight and move to the offensive line. Immediately after his commitment to Duke, Brandner's recruitment heated up, as he picked up offers from Clemson, Maryland, and Navy. Given his skill set, he's likely to continue to see increased interest, but he remains committed to the Blue Devils.
Quarterback
Coach Cutcliffe is notoriously selective with scholarship offers at quarterback. In the class of 2013, the Duke staff identified a small group of dual-threat prospects to recruit to Durham, and after a few close misses, secured a commitment from Parker Boehme (ESPN #42 QB-PP). Boehme's commitment makes him the second consecutive QB from the Jacksonville, FL area to join the Blue Devil program, following Duke's get of incoming freshman Thomas Sirk.  Boehme's lack of high-end speed led to him being ranked as a pocket passer by some of the ratings services, but they must have overlooked his nearly 1,000 rushing yards and 13 rushing touchdowns as a junior. Likewise, some scouts have questioned his mechanics, but his arm was consistent enough to throw for over 2,200 yards and 27 touchdowns last year as well. In summary, Boehme is a great addition to a QB stable that already includes Anthony Boone, Brandon Connette, and Thomas Sirk; he'll have plenty of time to develop under Coach Cutcliffe into a well-rounded dual-threat ACC quarterback.
Defensive linemen
It makes for great message board material, but there is some truth to the notion that Duke Football has struggled to land highly-ranked defensive linemen over the past few classes. The Blue Devils have secured a commitment from one player in the class of 2013 who hopes to buck that trend. Mike Ramsay (unrated) is a prime example of the type of diamond-in-the-rough recruit that could make an impact in Durham. Ramsay is another player who has been featured at multiple positions for a small southeastern private school. A late bloomer physically, Ramsay has attended Duke's camp each of the past two years, ultimately earning himself a scholarship offer with his play. As with most linemen, Ramsay is a talented athlete who may benefit from a redshirt year to improve his size and strength, while adjusting to a relatively new position at the college level. Duke has pretty strong depth at DE, but with Ramsay projecting as a bit of a project at DT, it wouldn't hurt for the Blue Devils to continue to look for a stud interior lineman in this class.
Outstanding needs
Who's been paying attention? So far, Duke has put up an 0-fer at three positions - linebacker, running back, and tight end. Overall, the Blue Devils have addressed many of their pressing needs (DB, WR) in this class, and with a (seemingly annual) scholarship crunch, enter the fall in a position to fill their remaining scholarships with some of the best available players across their recruiting board.
That being said, things may clear up on the RB front sooner than later, as Duke hosts Joseph Ajeigbe (ESPN #58 RB) and his family, all the way from California, on an unofficial visit today. The Blue Devils have been after the west coast star for several months, and find themselves out in front (alongside Northwestern) in this race. Jordan Huff (unrated), a prospect out of the football hotbed of lower Alabama, and a teammate of 2014 Duke commit Zavier Carmichael, is another RB prospect to keep an eye on as the fall approaches. Along with Ajeigbe, Duke hosts ATH DaeSean Hamilton (unrated) on an unofficial visit today. The staff would love to round out the class of 2013 athletes with a player like Hamilton, another two-way high school star who could play either receiver or safety. As for LB and TE, the picture is a bit murkier; the Blue Devils have seen a run of commitments at those positions move off their recruiting board over the past few weeks. With most of those top prospects out of the picture, there's no rule saying that the Blue Devils have to add a LB or TE given their depth chart, but there's still room if they find a match.
Oh, before we go, 42 days to kick off! WE ARE DUKE.