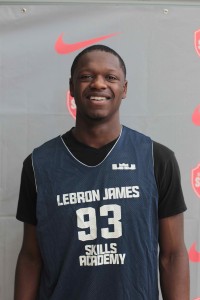 Despite being the youngest member of the United States U-18 team, 6'9" Julius Randle led the squad, which included one college sophomore and nine incoming college freshmen, in scoring, rebounding, and blocked shots.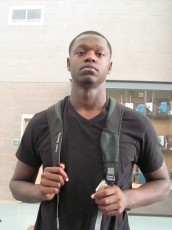 When speaking of Randle, USA Men's U-18 National Team finalist and fellow Duke recruit Austin Nichols said, "He's like a 6'9" point guard. He's huge, he can get in the lane whenever he wants to. He's a great player. He can shoot it, he can dribble, he can do whatever. I love playing with him. He makes me better every single time. He raises your game." In the FIBA Americas Championship game against Brazil, the tournament's home country, Randle rose to the occasion, as the McKinney, Texas native scored eighteen points and grabbed twelve rebounds to help Team USA secure the gold medal.
This was not the first championship for Randle, an avid Lakers fan, this year. In March, he led Prestonwood Christian Academy in Plano, TX, to its second state high school title in his three years. The left-handed Randle scored twenty-six points in the team's championship victory over John Paul II HS, also of Plano.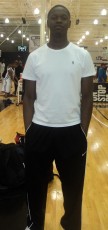 Prestonwood played a very challenging schedule, competing in the Beach Ball Classic in South Carolina, the HoopHall Classic in Massachusetts, and the City of Palms in Florida, where the then-junior Randle captured the MVP award, after outplaying seniors Ricardo Gathers, Shabazz Muhammad, and Isaiah Austin in consecutive games.  For the season, Randle, a MaxPreps Junior All-American, averaged 21.1 points, 9.2 rebounds, and 2.7 assists for the Lions.
On the AAU circuit, the ultra-competitive Randle forms a lethal one-two punch with 6'5" Matt Jones, a sharpshooter who has committed to Duke University, for the Texas Titans. One Titans parent described them as their version of Batman and Robin. They play with the trust, comfort, mutual respect, and seamlessness that is formed by playing together over the years on the hardwood and asphalt. The duo has helped lead the Titans to a 15-5 record during Nike's EYBL games, where Randle's mother, Carolyn, a former basketball player at University of Texas-Arlington, has been a constant and steadying presence.
Julius Randle, who veteran scout Tom Konchalski described as having "a Wayman Tisdale body," has been as dominant as any player over the duration of the Nike EYBL season. Despite being frequently double-teamed, he's leading or among the leaders in multiple statistical categories, including total points, rebounds, free throw attempts, and defensive rebounds, and in total has averaged ten rebounds and nearly eighteen points per game during EYBL play.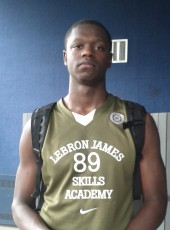 In the marquee matchup of the AAU season, Randle and Jabari Parker, the consensus top two players in the class of 2013, went head-to-head in Oakland, California as part of the Nike EYBL. On a court with as many as four future professionals, Randle dominated the game, scoring 23 points and snatching 13 rebounds, while Jones helped hold Parker to fourteen points and six rebounds in the Titans' 63-59 victory.  Many were hoping for a rematch at the upcoming Peach Jam, but Parker suffered a foot injury while competing with the USA U-17 team in Kaunas, Lithuania, and will reportedly be sidelined for Nike's marquee AAU event.
After Randle visited the Duke campus in Durham, NC last January, the Blue Devil coaching staff was a fixture at Randle's AAU  games in April. Duke coach Jeff Capel has now developed a lengthy and strong relationship with the Texas star and his mother.  The recent commitment of 6'8" wing Rodney Hood may mean that the 6'9" Randle becomes Duke's primary recruiting target in the class of 2013.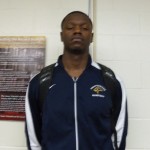 Over the past year, Randle's work with trainers Jeff Webster and Tyler Relph, both former college basketball players, has helped him improve his ball-handling as well as his conditioning and speed by trimming his body fat through intensive cardiovascular work.
Recently, Julius Randle spoke with me about a variety of topics, including what he'll be looking for in a college program, the matchup with Jabari Parker, and playing alongside Matt Jones.
Let's start with USA Basketball. 
It was a great experience. I mean, it was a way different experience than anything I ever had. It was really amazing for me and I really enjoyed it.
I didn't talk to you right after the matchup with Jabari, but it seemed like both of you guys were pretty emotional both before and after the game.
Yeah, yeah, it was highly anticipated all weekend. I just had to go out there and do what I had to do.
What was the mindset going in and what were you feeling after you got the win and you played great?
My mindset was pretty much the same as any other game, which is to go out there and destroy. To just go out there and be who I am. I put a lot of hard work in and it helps me to build my confidence and so I expect to see results.
[private]
I had wanted to ask you this awhile ago, but I'll ask it now. Was winning the second state title different for you than winning it as a freshman? Do you feel more ownership or leadership on this one?
I mean, it's always a special thing, but you win one and you just feel like you want to get another one.  It's always a special experience for me. 
You had games during the regular season when you were putting up 50 points, 46 points.
(laughs) It just felt like the basket was an ocean that day.
How has playing a challenging high school schedule in events like the City of Palms, the Hoop Hall Classic, Beach Ball Classic, etc. help prepare you for AAU ball and camps like this?
I mean, it just always has me well-tested. Every game I go out there just keeps me on my toes. It forces me to always play my A-game. It mentally keeps me sharp. It develops me as a player by putting me against good players every game. 
It also helps you deal with all of the traveling and everything.
Yeah, it does.
And what's it like playing as a one-two combo with Matt Jones? You guys have that sort of coveted inside-outside game that programs really like.
I've been playing with Matt for years, so he's a great player. He's always been a hard worker and it shows up in the games.  I know whenever I'm in a game with him, I can always depend on him.
Can you give the audience a quick scouting report on Matt Jones?
He's one of the best shooters in the country. He can score now in a variety of ways. He's been working hard on his defense and can guard almost anybody. He's got great size for a guard too. He's definitely one of my best friends.
In terms of visits, I thought that I heard you were going to visit Kentucky and N.C. State officially. Have you visited anything recently? I mean, I don't know how you'd have time. And do you have any others planned?
No, no, I didn't have time to visit any schools recently, but I got to sit down and see what visits I want to take.  
If you had to choose between the two, would you choose a hard coach or more of a buddy coach?
I guess I'm just looking for a coach that I can really trust. A hard coach is fine with me because I know he's going to push me, because I know in the back of his mind he has my best interest. That's basically what I'm looking for. 
I know some guys seem to be looking for a friend.
Yeah, no, that's not me. I'm just looking for a coach that's going to push me to be the best player that I can physically be. That's all I can ask for.
You were talking before about going out and destroying people. The one thing that I noticed about your game is that you have this sort of internal fire that if somebody knocks you, if somebody challenges you, that you sort of have this really competitive thing inside of you that you don't necessarily see with a lot of big guys. Is that an accurate statement do you think?
Yeah, I just go out there and play with a chip on my shoulder. Anything, the littlest thing, can piss me off. 
(laugh) 
Yeah, anything can light a fire under me. I mean, any extra motivation is fine, but I'm self-motivated. 
That's what I was getting at. What about a leadership role for you? Do you view yourself as a leader at this point?
Yeah, I mean, I try to be vocal a little bit, but I also go out there and show my teammates the level of effort that they need to bring. 
Did you have that on the USA team as well?
Oh, yeah. 
I didn't know what the dynamics were.
Marcus Smart was probably our leader on that team. He's the big-time leader. We kind of just wanted to take the identity of the team, just hard workers. We just try and prepare for the games and stuff like that. 
At this point in your career, what do you view yourself as? More of a face-up player or a back-to-the-basket guy?
I definitely feel that I'm more of a face-up guy at this point. I definitely feel more comfortable facing up. It's something I've worked on to get me to this point. I like to play on the perimeter against great defenders and then take the smaller defenders on the post.  
I would say the one thing that has noticeably improved in your game over the last year is your handle. You've gone from doing maybe 2-3 dribbles and pull up to now bringing the ball up the court and looking like you're more comfortable putting it on the floor in half-court sets. I used to think it was a bit of a vanity thing, but you turned it into an asset. I know you liked Lebron James. Was that the sort of model you were going for as a 6'8," 6'9" guy? Was that the kind of mold that you were going for?
Yes, just a point-forward or whatever. 
Yeah, that's what I mean.
Yeah, I feel like I can now do a lot of other things on the court. It's just given me mobility.
In the past, you mentioned that one of your long-term goals was to win an NCAA Championship in your home area of Dallas. 
Yeah, it's a goal of mine. That's just something I want to do. 
Actually, speaking of Texas, do you have a rivalry with the Harrison twins at all?
No, not really. I mean, I haven't played them in a while. They're great players, so when we play, it's always a battle. 
For the others who don't know, describe your relationship with Coach (Jeff) Webster.
I've known him since the fifth grade. He's always had my back. I know he's always going to be there for me. 
In terms of your recruitment, what are the factors that will help you ultimately decide on a college?
Number one is a coach that I know I can trust, number two is education, and number three is of course going to develop me. Those are really the three things.
Do you know when you're going to cut down on your list of schools?
I'm going to sit down and think about what schools I really want to get serious about and I'll probably decide after the AAU season, after the summer probably. I haven't really thought about the number of schools that I want to cut it down to.
(Another interviewer passing through) What's your general interest level of Kentucky?
I mean, I guess it's generally pretty high. They've been recruiting me since my freshman year.
What would you say you've worked on the most over the past year?
Just my in-between game. 
What are your expectations heading into the Peach Jam? 
I mean, I go in with the expectation that we'll win it. 
Who would you say is the best defense against you?
I guess I'd say box-and-one.
When you see someone for the first time, like for example in this game, James Young, what are you trying to establish? What is your mindset heading into it?
My mindset is pretty much the same, even if it is for the first time.  It's just attack, attack, attack.
In terms of that issue, do you think you have to intimidate your opponent with aggression?
No, no, it's just my mindset of attacking. 
Before you were mentioning about playing with a chip on your shoulder. Away from the court, has it ever been an issue in terms of you shutting it off? I mean, you seem to be a pretty happy kid.
No, it really hasn't been a problem for me. I've been able to separate the two pretty well. 
When you talk with college basketball coaches, do you prefer to talk about purely basketball or other sort of life things?
It really doesn't matter to me. Any conversation is fine.
Sure. I remember that you were a Lakers fan. What did you think of their acquisition of Steve Nash and what do you think their chances are next year?
I mean, I just hope they play good next year and they have a chance to win it. 
Do rankings matter to you at all?
No, not at all. I just want to be the best that I can be.
Is trust an issue for you? Before you were saying that you wanted to be able to trust the coaches.
No, I mean, I have my circle of people that I trust. 
I saw that you tweeted about being a dream chaser on NBA draft night and why you wanted to be drafted two years from that night.
It's just something I set out to do. It's a goal of mine. 
What do your mother and your sister think of all of this? I know that they're very tight with you. You had told me that you loved them to death.
They just support me in all of the different things that I do. They make me have the confidence to move forward and work. It's unconditional. 
Do you hate doing interviews? (laugh)
(laughs) Oh no, it's fine. 
In terms of position, what do you think of yourself as? 
I like to think of myself as a point-forward.
You work with Tyler Relph…
Yeah, he pushes me. He's been a great trainer for me.  
Physically, one thing that's clearly noticeable about you this year versus last year is that you've gotten leaner. What's been the key to that? Cardio? Nutrition? Changing your diet?
I would say diet and cardio. That's what I would tell anybody to work on. It's helped me a lot. 
What are you down to in terms of weight and body fat?
I'm down to 235 and I don't really know my body fat. 
Speaking of recommendations, one of your teammates out here was a talented freshman named Diamond Stone. What would be your advice be for a freshman like him? I mean, you're not that far removed.
I would say don't get caught up into the hype. Just focus on yourself and getting better and how you can help your team. Don't get caught up in all of the rest of the stuff that will come at you. 
Because you were once that highly touted freshman..not that you're that old now.
Yeah, exactly. I feel like I was in those shoes just a little while ago. I know what they're going through.
What is your relationship like with the Duke coaches?
I mean, I have a great relationship with them. I talk to them all of the time. They talk to my mom a lot. You know, it's going to come down to a trust thing.
Would you say you trust them?
Yeah, I'd say I trust them. It's just going to be about what system fits best for me.
Alright, that's it. Thank you so much.
Alright, thanks a lot.
 [/private]