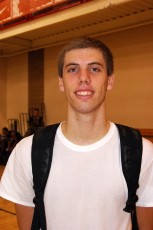 Plenty of prominent college coaches are showing early interest in budding young star Mickey Mitchell.  The 6'7″-6'8″ lefty, a member of the class of 2015, plays at Prestonwood Christian Academy of Plano, TX, and if that school sounds familiar to Duke fans, it's because he's high school teammates with key Duke target Julius Randle.  Mitchell is a year older than his classmates, as the rising soph is already sixteen years old.  One potential wrinkle in his recruitiment is that Mitchell is also an outstanding football player, and is going to be highly sought after as a college quarterback as well.  But the basketball staffs at Duke, Florida, Kansas, North Carolina and Texas have shown early interest in Mitchell, w ho has been rebounding from a recent injury, and is still working back into his game.  BDN Premium caught up with Mitchell for a one-on-one chat during the Nike Peach Jam recently, and here is that conversation.


Sorry, but you must become a premium subscriber to view the rest of this post.

Join now by visiting the PREMIUM MEMBERSHIP link at the top of the page, where you can learn more about the benefits of a Blue Devil Nation Premium membership.