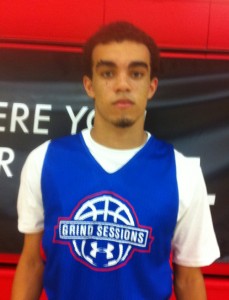 Few positions in sports are able to control the tempo of a game like a point guard can. For some, speed is the key, while others like to slow the game down completely. Players such as Tyus Jones have the ability to change the pace back and forth, constantly keeping the defender on his toes. Jones has a feel for the game that is far beyond his years.
For Jones the attention he receives is nothing new. His local university, Minnesota, has been recruiting him since the eighth grade, and he has built a great relationship with Tubby Smith and his staff.
The Apple Valley product won a Gold medal this summer with the U17 Team USA squad in Lithuania. He had the chance to share the experience with close friends Justise Winslow and Jahlil Okafor.
Jones gave BDN a few minutes to discuss his summer and his recruitment, among other topics.
BlueDevilNation: Take me over your summer and how you think it went.
Tyus Jones: I think the summer's gone very well so far. I enjoyed


Sorry, but you must become a premium subscriber to view the rest of this post.

Join now by visiting the PREMIUM MEMBERSHIP link at the top of the page, where you can learn more about the benefits of a Blue Devil Nation Premium membership.