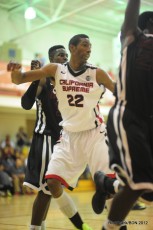 Marcus Lee, a rising senior out of Deer Valley (CA), has blasted onto the scene over the last six months, establishing himself as one of the top big men in the class of 2013. Boasting a 7'1.5" wingspan, the wiry 6'9″ Lee uses that length well to protect the paint.  Driving much of the attention has been Lee's excellent summer on the hardwood.
Marcus never imagined he would receive the attention he has, even as his game has blossomed. He is extremely gracious for all the help his brother Brian has given him in the recruiting process. For Marcus, Brian has been the rock that he has needed to help him navigate the challenging recruiting process.
Lee recently arranged his final official visits, and is expected to make an official visit to Duke on October 27.
The bouncy big man was gracious enough to give BDN some time to discuss his recent trip to UCLA, his impressions of Coach K, and his relationship with his brother, among other topics.
BlueDevilNation: Being a west coast guy, it must be an honor to represent the west side out here in the Elite 24.
Marcus Lee: Oh yeah.  It was a great honor once I got the invite. It was just a real add-on to summer.  The summer was great.
BDN: Do you feel you had a good summer and played as well as possible?
ML: Yeah, I think I had a real great summer this year, and yeah, I tried as hard as possible and just tried to


Sorry, but you must become a premium subscriber to view the rest of this post.

Join now by visiting the PREMIUM MEMBERSHIP link at the top of the page, where you can learn more about the benefits of a Blue Devil Nation Premium membership.