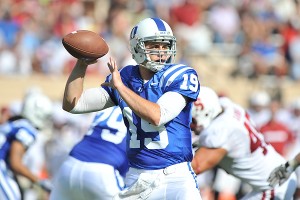 Duke at Stanford
10:30 PM ET
Saturday, September 8
Stanford Stadium
Stanford, California
TV: PAC-12 Network
Radio: Blue Devil IMG Sports Network, Sirus/XM 128 (Stanford broadcast)
BDN Gameday Twitter: @PatrickCacchio
Duke in 2012: 1-0, defeated FIU 46-26, Saturday 9/1
Stanford in 2012: 1-0, defeated SJSU 20-17, Friday 8/31
DUKE INJURIES
PROBABLE - S Anthony Young-Wiseman (leg), DE Jonathan Woodruff (leg)
OUT - CB Jared Boyd (leg), LB Kelby Brown (leg), NG Jamal Bruce (foot), S Jordon Byas (leg), TE Braxton Deaver (leg), LB Britton Grier (hand), TE Jack Farrell (leg), OG Lucas Patrick (ankle)
OUT FOR SEASON - WR Blair Holliday, DE Allen Jackson (shoulder), S Taylor Sowell (leg)
STANFORD INJURIES
QUESTIONABLE - FB Ryan Hewitt
OUT - FB Geoff Meinken
OUT FOR SEASON - OG Cole Underwood
Last year: Stanford defeated Duke 41-14 in week 2 in Durham behind Andrew Luck's 4 TD performance.
HOW DUKE CAN WIN
Duke has momentum, coming off one of the program's better wins in recent years. They have experience, having faced this same Stanford team in week 2 of last year. They have talent, led by a core group of seniors in Sean Renfree, Conner Vernon, Desmond Scott, Kenny Anunike, Lee Butler, and Walt Canty. They have youthful exuberance, shown by David Reeves' TD in his first college game and Kyler Brown's interception return on a 2-point conversion try. They have speed, highlighted by Josh Snead's strong return from injury and Jamison Crowder's ability to consistently beat man coverage. Regardless of what happens on Saturday, all of the above will still hold true.
Opportunity is what you make of it. Saturday presents many opportunities for this Duke team: an opportunity to snap a 41-game losing streak to ranked road opponents; an opportunity to validate their opening week win; an opportunity to prove they are ready to compete both in the ACC and nationally; and an opportunity to beat a very good football team. To win, the Blue Devils have to be opportunistic on Saturday; every snap, they must be prepared to seize an opportunity. They have to put up points on every trip to the red zone. They have to make tackles. They have to take advantage of any Stanford mistake, both on offense and defense. They will have to take some chances and make critical defensive stands. Just as in week 1, special teams will have to make big plays. And it goes without saying, but they must not create opportunities for the Cardinal through penalties or turnovers. No single play or player is going to win this game for Duke; it must be a concerted effort across all phases of the game.
HOW DUKE CAN LOSE
When you're a 2+ touchdown underdog facing a top-25 team, there are a lot of ways you can lose. In fact, Duke could play very well on Saturday and still not come away with a victory. Stanford will be looking to put forth a good effort after a lackluster week one victory, especially with PAC-12 favorite USC looming next week. Senior RB Stepfan Taylor will give the Duke front 6 all they can handle running behind Outland Trophy nominee David Yankey. QB Josh Nunes, replacing #1 overall draft pick Andrew Luck, has weapons to work with in TE Zach Ertz, WR Ty Montgomery and WR Drew Terrell.  And with three Butkus Award nominees, the Stanford linebackers are some of the best that the Blue Devil offense will face all season. If Duke makes any of the same mistakes they did in week 1 - turnovers, penalties, and missed tackles - the Cardinal will take advantage and not look back.
WHY STANFORD WILL WIN
As good as Andrew Luck was last year, it was the Stanford defense that was truly dominant against Duke. The Blue Devil offense was held without a touchdown until late in the fourth quarter, and managed just 30 net rushing yards the entire game. The Cardinal return 7 starters from last year's defensive unit, and this week, will be bolstered by the return of their senior leader at LB in Shayne Skov, a preseason 1st team All-PAC12 selection. In week 1, the Blue Devil offense was able to thrive against a FIU unit filled with speed. Stanford will present a much different test. Over the past few seasons, Sean Renfree and the Blue Devils have struggled to consistently move the ball against strong and physical defenses. If the Blue Devils hope to come away with a landmark victory for their program, they will have to earn it, and likely have the breaks fall in their favor. Duke is much improved from a year ago, and Stanford may have taken a step back, but the Cardinal are still the more talented team. Stanford 28, Duke 20