BDN Staff will test their luck again this week against Blue Devil Greats Bob Harris, Thad Lewis, Vinny Rey, and Matt Daniels. After a few perfect weeks in week 1, reality set in for our experts in week 2. BDN's Patrick Cacchio and Andrew Slater continue to pace the way with 17 points each. After the Blue Devils' crushing defeat at Stanford, the Blue Devil Greats fall behind the BDN staff 65-59 in the overall standings.
Here are this week's standings:
The week 3 slate of games present several challenges, starting with three non-conference ACC games. It hasn't been pretty, but Maryland is 2-0, and they host a Connecticut team coming off a home loss to NC State. Boston College travels to the midwest to take on Northwestern, and the Tar Heels face another road test at Louisville. Penn State will look to avoid an 0-3 start against Navy, while Stanford looks to pull the upset at home against USC. The Blue Devils, of course, will be looking to rebound against their cross-town rival NCCU. Here are this week's picks: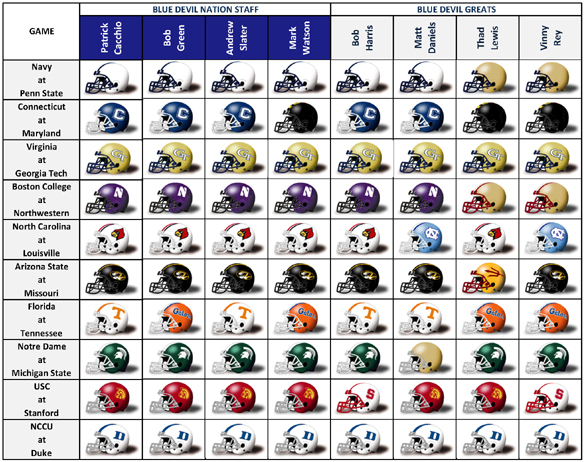 Patrick Cacchio: The Blue Devils are again limited by injuries, but will bounce back after a poor showing in week 2. Expect Duke to control the line of scrimmage, leading to a big day for the Blue Devil running backs. Duke 48, NCCU 21
Bob Green: Duke will come out motivated and establish dominance at the line of scrimmage. The offense will look to establish the running game and short passing attack, while mixing in the occasional long down field strike. Quarterback Sean Renfree will push the offense to execute the game plan with precision. Renfree will look to involve all his offensive weapons against the Eagles.
On defense, look for Duke to apply pressure early and often in an attempt to frequently place NCCU in 3rd and long situations. This will be a statement game so the defense will be looking to play mistake free football, while forcing NCCU to make mistakes.
My Special Teams crystal ball says look for Duke to have a big play or two when NCCU is punting. Perhaps a blocked punt or a return for a touchdown.
Duke 42, NCCU 14
Andrew Slater: After last week's shellacking, Duke can gain a quick confidence booster against the Eagles of N.C. Central. NCCU has been giving up nearly nine yards per pass against offense much less potent than the Blue Devils. I think Coach Cutcliffe will look to turn up the offense this week heading into the homecoming game against Memphis in the following week. Duke 44-17
Mark Watson: Duke looks to rebound after their loss to Stanford and they will impose their will in all facets of the game versus N.C. Central. Look for Duke to establish the run as the Blue Devils will get back on the winning track against the Eagles. Duke 47-14
Bob Harris: The Devils are mad and will take it out on the Eagles. Look for Renfree to have a monster game, and the defense will lock down NCCU's offense. Duke 49, NCCU 3
Matt Daniels: Duke - by a lot, 42-14. Duke is the better team, simple as that.
Thad Lewis: Duke will beat NCCU. We will rebound from the loss last week, get our mojo back, and click on all cylinders - offense, defense, and special teams.
Vinny Rey: Duke will rebound from last week's game. The offense will explode and the defense will make the plays when needed. Duke 41, NCCU 17