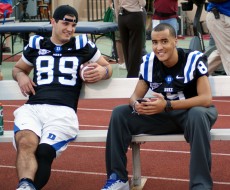 The Duke Blue Devils pushed their season record to 2-1 with a 54-17 victory over in town rival, North Carolina Central University in the Bull City Classic. The Blue Devils were the beneficiary of two late turnovers which broke the game open after a 41-17 lead which at the time looked as if it might stand. Duke was very banged up coming into the game and used a lot of players as the game progressed against their out manned opponent.
One of those turnovers led to a Ross Cockrell 32 yard interception return for a touchdown.  Cockrell had two picks on the game.
Sean Renfree threw for three touchdowns on 25 of 35 attempts for 280 yards. One of his passes went to Isacc Blakeney for his first career TD pass and one each to Jamison Crowder and Josh Snead. Back up quarterback Anthony Boone accounted for another TD pass to give Duke four for the game. His pass went to walk on tight end Jack Wise who like Blakeney caught his first career TD pass as well.
Duke ended the game with 128 yards rushing but they struggled early on and most of those yards came from true freshman Jela Duncan who ran for 5o yards on six carries. Duke put up 408 yards of total offense while Central gained 337 which could be seen as a moral victory for the Eagles.
The bottom line is it wasn't always pretty but by games end, thanks to said turnovers, the Blue Devils final margin of victory was a bit more impressive than it's overall performance on the evening. But a win is a win and it was a good win and one where they can build off the performance after watching film. The crowd of  22,829 was a bit of a let down as well, especially on what most would consider a perfect night for football.
The Blue Devils are now 2-0 at home and the margin of victory was the largest in the Coach Cutcliffe era at Duke.
The biggest thrill of the night for many beyond the victory itself, was the return of Blair Holliday who was on the field before and during most of the game. Holliday is recovering from a serious injury in a boating accident and this was his first appearance since that tragedy.
Duke will next take on a winless Memphis team in Wallace Wade Stadium with a 6:00 kickoff next Saturday. Stay tuned for post game videos on Blue Devil Nation and a highlight tape tomorrow.