After winning the last two weeks, the Voice of the Blue Devils, Bob Harris, has surged into first place in our overall standings. Harris holds a one game lead over BDN staff members Andrew Slater and Patrick Cacchio. Cleveland Browns QB Thad Lewis tied Harris for the week 4 win, correctly picking 8 games. A happy belated birthday to St. Louis Rams' safety Matt Daniels as he turned 23 this past week. Vinny Rey and the Bengals continue to roll along after a victory over the Redskins.
This week's slate of college football games is headlined by the Blue Devils' crucial road matchup at Wake Forest. Both the BDN staff and the BDN Greats believe this is the year for Duke to snap their 12 game losing streak to the Demon Deacons. Elsewhere in the ACC, the Wolfpack travel south to take on Miami, who comes off a surprising upset of Georgia Tech. After their disappointing loss at Florida State, Clemson will try to right their ship as they travel to Boston College. Virginia Tech will try to avoid going 0-2 against the Big East this year as they take on Cincinnati. Derek Dooley will take his Volunteers on the road to face Mark Richt's Bulldogs in a big SEC matchup. In what appears to be a wide open PAC-12 race, Oregon State travels to Arizona for an important game between two surprise teams. Texas will take on Oklahoma State, and Wisconsin faces a tough test at Nebraska. The headline game tonight will be in the Big 10, where Urban Meyer's Buckeyes will try to come away with a victory in East Lansing against the Spartans. Enjoy this week's games! Go Duke!
Here are this week's picks: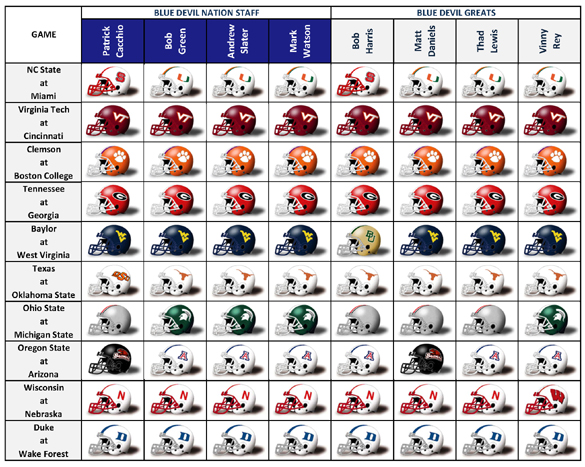 Patrick Cacchio: The streak ends here. Duke will improve to 4-1 as they put together their best game of the season. It will be another thriller in the series, but Duke will come out with the tough ACC road win. Duke 45, WF 37
Bob Green: Special Teams play has to improve. Muffed punts or a 95 yard kick return are potentially fatal mistakes against an evenly matched opponent. Duke has two excellent kickers in Will Monday and Ross Martin, but to take advantage of their skills the coverage teams have to step up their performance.
On defense, Tanner Price must be contained. His ability to scramble and create something out of nothing is a concern. Additionally, Duke must be tough up the middle as Wake Forest will look to establish the run to set-up the pass.
Offensively, the Blue Devils must utilize the whole playbook to take advantage of all the skill position players on their roster. It is time to pull out all the stops and unleash the offense.
Star Watch: Conner Vernon will have more receptions for more yards than Michael Campanaro. Add in significant contributions from Jamison Crowder and Desmond Scott and Duke's passing attack will be too much for Wake Forest to handle. Duke 35, Wake Forest 24.
Andrew Slater: Wake Forest has generated more excruciating losses over the past decade than any other program. This year, the Demon Deacons have had major trouble defending the run (giving up 5.4 yards per carry and 265.5 yards per game), while Duke has had its best rushing team under Coach Cutcliffe. Despite all of the injuries, it will be critical that the Blue Devils' secondary blankets the Deacons' slot receiver Michael Campanaro, who is averaging over 105 yards catching per game. The Deacons' line is expected to get a boost with preseason All-ACC NG Nikita Whitlock returning from injury to add to the Akron transfer, DE Hassan Hazime. One of these years, Duke will end this ungodly losing streak against the Demon Deacons. This could very well be the year. Duke 30, Wake Forest 27
Mark Watson: It's time to break the streak and this Duke team is up to the task. The Blue Devils come out with a hard fought 31-30 win.
Bob Harris: 12 straight losses to the Deacs? Devils SHOULD, not could, but SHOULD have won 7 of those. THE STREAK STOPS HERE! Duke 42, Wake Forest 28
Matt Daniels: The Deacs and Devils meet again as the Devils head down to take on a Deacon team that struggled versus Army last week. It is key for the Blue Devil offense to step up and make plays and the defense must stop the run and put clamps on WR Campenero who is having a great season thus far. Expect this game to be a nail biter as usual, but this time the Blue Devils finally come out on the winning side.
Thad Lewis: It's about time we get over this hump and finally beat Wake -- we've been so close but it's our time now.
Vinny Rey: Duke 34 Wake 13 - Duke handily gets a win against Wake. The explosive offense and fast reacting defense is too much for the Deacon defense.