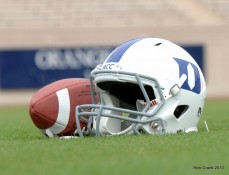 Blue Devil Nation starts this week's review of high school gridiron action in Columbia, South Carolina, where Heathwood Hall Episcopal defeated Laurence Manning Academy 12-9 in overtime. Lineman Gabe Brandner spoke to Blue Devil Nation about the game and stated, "It went into overtime at 6 to 6. We held them to a field goal then we scored a touchdown – the final was 12-9. We rushed for over 200 yards again and I had 10 tackles."
In California,


Sorry, but you must become a premium subscriber to view the rest of this post.

Join now by visiting the PREMIUM MEMBERSHIP link at the top of the page, where you can learn more about the benefits of a Blue Devil Nation Premium membership.