Archives by date
You are browsing the site archives by date.
By Bob Green on October 30, 2012
Different states are on different schedules, so in North Carolina the regular season is winding down, with playoffs commencing next Friday night. Therefore, this week's results impacted conference championships and playoff seeding. In other states, the regular season marches on for another week or two.
Posted in BDN Premium Articles | Tagged Breon Borders, Bryon Fields, Darren Andrews, Evrett Edwards, Jake Kite, Joseph Ajeigbe, Josh Cabrera, Kendall Hinton, Parker Boehme, Quay Mann, Shai McKenzie, T.J. Douglas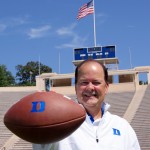 By Mark Watson on October 29, 2012
Duke Football needs to put the Florida State loss behind them. There are three important games left in the season, the results of which will determine where Duke goes as far as bowl games are concerned.  Besides, there is not a lot worth remembering in the 48-7 defeat by FSU. It is a bit bothersome that […]
Posted in Duke Football | Tagged Duke Football has opportunities, Duke Football needs to move forward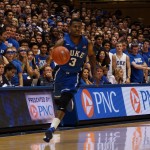 By Tom Rubinson on October 29, 2012
Next on our class-by-class preview of this year's Blue Devils is the junior class, which consists of just two players, guard Tyler Thornton and forward Josh Hairston.  The third original member of the class was a guy you may remember, name of Kyrie Irving.  Irving was always going to be the obvious star of the […]
Posted in Duke Basketball | Tagged Blue Devil Nation. BDN, Josh Hairston, Tom Rubenson, Tyler Thornton
By Mark Watson on October 27, 2012
BDN caught up with true Duke freshman Rasheed Sulaimon in the locker room to get his thoughts on his Cameron debut performance -
Posted in Duke Basketball | Tagged BDN Video, Mark Watson, Rasheed Sulaimon interview, Rasjheed Sulaimon leads Duke
By Mark Watson on October 27, 2012
In their season opening exhibition game in Cameron Indoor Stadium on Saturday afternoon, the Duke Blue Devils defeated the Western Washington Vikings by a 105-87 score. What a start for Rasheed Sulaimon! The freshman looked like an old pro in his first outing, putting up 20 points, 3 assists, and 2 steals. Sulaimon is a player who […]
Posted in Duke Basketball | Tagged Amile Jefferson, BDN Video, Duke rips Western Washington., Mason Plumlee leads Duke, Rasheed Sulaimon leads Duke, Ryanb Kelly leads Duke
By Mark Watson on October 26, 2012
BDN caught up to Josh Snead and Tony Foster earlier this week to talk about Duke Football and facing a tough Florida State team this weekend -
Posted in Duke Football | Tagged BDN, Duke Football News, DUke vs FSU, Josh Snead, Tony Foster