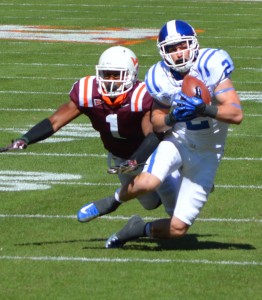 It appeared the Duke Blue Devils were in the driver's seat early on in their game with Virginia Tech, but it all turned on a single play.  Late in the 2nd quarter, a pass from Sean Renfree bounced off Conner Vernon's hands into the hands of one of three Hokies surrounding him deep in Virginia Tech territory.  Duke held a 20-10 lead at the time, but the Hokies connected on a long bomb on the very next play and carried momentum into the locker down by just a field goal, after having trailed earlier 20-0.
In the 2nd half it was all Hokies, as they ultimately ran off 41 consecutive unanswered points.. The Hokie defensive line looked like an NFL front, dominating the rest of the game, holding Duke to minus 2 yards in the 3rd quarter and creating a lot of pressure on the Duke QB's. Duke must now regroup, as some hard lessons were learned.
For a time, Duke reverted to some of the play which doomed them a season ago, and which they had largely avoided in this season's 5-1 start.  I'm talking the explosive plays against the defense and allowing the opponent to connect on 3rd and anything.  And when those habits or lack of execution come back, it means a loss.  Duke is thus 5-2 as they head home to take on archrival North Carolina in a renewal of a series owned by the Tar Heels in the modern era.
Duke must prove it can bounce back, and that is in question if for no other reason than they seemed completely deflated when adversity hit today.  If the Blue Devils are to find that coveted sixth win, they'll need to respond much better than they did today when the body language indicated they had given in to the pressure.
So it is back to the drawing board for the Blue Devils, who fall to 2-1 in the ACC, with the next big test at home against North Carolina next Saturday.  Here is the game story link.