Next on our class-by-class preview of this year's Blue Devils is the junior class, which consists of just two players, guard Tyler Thornton and forward Josh Hairston.  The third original member of the class was a guy you may remember, name of Kyrie Irving.  Irving was always going to be the obvious star of the class, and though he only played 11 games in a Blue Devil uniform, he did not disappoint – either in his on-court play or the kind of teammate and representative of Duke University that he was and continues to be.
Neither Thornton nor Hairston has the natural ability to be a superstar at the high-major level.  But both have made valuable contributions to the team in their first two years, Thornton in particular, and both still can carve out significant roles going forward, depending on their own play as well as the dynamics of the team.
It was actually Josh Hairston who was the more highly regarded prospect coming out of high school in Fredricksburg, VA.  The 6'7" forward was the #32 rated prospect in the RSCI composite rankings.  Just for context, the four guys rated directly above him were Roscoe Smith, Meyers Leonard, Trey Ziegler, and Dion Waiters, and the player ranked just below him was Terrance Ross, the excellent wing who enrolled at Washington.
Josh saw limited minutes as a freshman, however, getting just 6 mpg, scoring 1.4 ppg and getting 1.2 rebounds and assorted other minor stats.  Duke had four other frontcourt players in Kyle Singler, Miles and Mason Plumlee, and Ryan Kelly who were not only more experienced than Hairston, but frankly, better players, and Coach K was just not inclined to give much PT to his ninth man (tenth when Kyrie played) and fifth best frontcourt player.
Tyler Thornton, 6'1" out of Washington, D.C. was not even ranked in the RSCI top 100 players in the high school class of 2010.  Nobody would've been all that surprised had he been nailed to the bench as a freshman, given that Duke had Kyrie and Nolan Smith, as well as Seth Curry on the roster, none taller than 6'2".  But then Irving got hurt, and Thornton got some play.  He only averaged 10 minutes per game, and his numbers were nothing to write home about.  At the offensive end, Ty sometimes got overwhelmed by the size and athleticism of the opponent.  But what he did was establish himself as an aggressive on-ball defender, a hustle player, and a kid with a nose for the ball.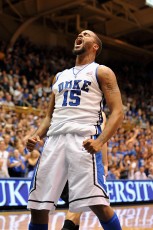 As sophomores, Thornton's role expanded much more significantly than did Hairston's.  Ty started 19 ballgames last year, and whether or not he started, Coach K used him in a variety of roles.  This was partially due to the fact that K was tinkering all season with the lineup and, truth be told, never found many combinations that he was comfortable with.  Thornton played point guard, he played off the ball, and he even guarded some small forwards when Duke employed a 3-guard lineup.
Perhaps his most memorable game came early in the year, in the Maui Invitational final against Kansas.  Thornton, never known for his three-point shooting, hit one with just over a minute to go to give Duke the lead, and then threw in another, off-balance three to beat the shot clock with 20 seconds left in the game, and ice it.  Folk hero time.
Over the course of the year, Tyler continued to establish himself at the defensive end, as he worked hard to harass opposing ballhandlers.  He did get beaten into the lane too often, though, and his 6'1" frame left him susceptible to bigger guards shooting over him.  And he was frequently over-aggressive, as he fouled out of four games, including the Lehigh debacle, and had four fouls in eight others.  The kid hustles every minute out there though, and Coach K clearly values that.  He also values leaders, and has said that one of the reasons he plays Thornton is because of his leadership qualities.
On the offensive end, though, Thornton did not bring nearly as much to the table as did Duke's other guards, and this contributed to some of the team's struggles.  He did not force the defense to react to much of what he was doing.  He does not have the quickness, the handle, or the athleticism to get into the lane, either to get his own shot or to set up others.  And most of the passes he throws are relatively easy ones on the perimeter, rather than penetrating passes that hit teammates at advantageous spots on the floor.  He shot 38% overall from the floor, including 35% from three point land, but only 28% on three pointers in ACC regular season play.  Duke was so confused and out of sync that Thornton somehow hoisted 13 threes in the ACC tournament game against Virginia Tech (hitting three), and then reverted to the norm against FSU and Lehigh.
What about Josh Hairston's sophomore campaign?  Well, he only got 8.5 mpg and contributed 2.7 ppg and 1.4 rebounds.  He only scored in double figures once, against Western Michigan, and only got more than 10 minutes of burn in three ACC games prior to the tournament.  The only frontcourt players ahead of him were the Plumlees and Ryan Kelly, yet Josh was not able to break into the regular rotation.  Essentially, at 6'7" and 235 pounds, Josh was not quick enough or athletic enough to play the small forward position, and he's not tall or long enough, or athletic enough, to play effectively down low.  He's a tweener, one who plays below the rim, and with an uncertain jumpshot from 15 feet.  Consequently it's been tough for him to find a role.
Another hindrance to Josh's development has been the fact that he has not been in top condition.  By his own admission in a recent Chronicle article, he is now in the best shape he's been at Duke, and he also says that he understands that Coach K couldn't give him minutes in the past because he wasn't in shape and would tire quickly.  While it's somewhat disturbing to have a player not in top condition during the basketball season, it is at least encouraging that Josh is now being up front about the problem, he's taking responsibility for it, and – at least according to him – remedied it.  Hopefully it will mean a leaner, meaner Josh Hairston, one who can get up and down the floor and regain the explosiveness in his game.
By all accounts, Josh is a terrific kid and a great teammate.  He has embraced the role he's had his first two years, and been completely supportive of the guys playing ahead of him.  But this is an important year for him.  Will he continue to be basically a bench guy, one who gets real minutes only when other bigs are in foul trouble?  Or will the newly in shape, rededicated Josh Hairston learn to harness his energy, calm down a little out there, play hard without forcing anything, and just use his experience and his understanding of the system to be a steadying influence on the floor?
What is fair to expect from Thornton and from Hairston heading into this year?  It certainly appears that Coach K intends to start Quinn Cook at the point, Seth Curry (depending on his injury status) at the 2-guard, and to bring Thornton off the bench.  That's a good thing for the team.  Most observers, including this one, believe that Ty is much more effective as a 10-to-15 minute per game energy guy, one who can come in, harass the opposing point guard, force the other team to really work to run its offense, and on offense simply not make mistakes and take only open 3-point shots.  That type of contribution from a point guard works in the type of limited minutes I just suggested; as a 25 or 30 minute player, not so much.
Hopefully, Alex Murphy will eat up the major minutes at the 3, and Coach K won't need to insert Thornton at that position, where it is obviously not a natural fit for his body type or his skill set.
While it is often the case that a team is best served when its best player(s) are its leaders, Tyler appears to be the type of kid who can be a respected and effective leader even if he comes off the bench and plays limited minutes.   That's rare, and valuable.  Coach K respects his leadership qualities, and with Ty now being an upperclassman, I would think his teammates would look to him even more than they did in the past.
As far as Josh goes, he's going to have to battle for minutes.  It goes without saying (but I'll say it anyway) that being in shape will help him.  Of course Mason Plumlee and Ryan Kelly will get (and deserve) the lion's share of the big man minutes.  According to Coach K, Marshall Plumlee was in the top 6 before he suffered the stress fracture to his foot.  Marshall's absence for the next 6 to 8 weeks provides an opportunity for Josh to prove he can contribute to this team in a meaningful way.  But Amile Jefferson is going to be fighting for time too, and though he is a different type of player than Josh, they both could fit in at the 4 when Ryan is sitting or when Mason sits and Ryan plays the 5.
When he gets his opportunities, Josh is going to have to hustle; he's going to have to body up bigger guys on defense; he's going to have to be smart and be aware of what's going on defensively so he can make the appropriate rotations; he's going to have to block out better than he has, in order to make up for being shorter than most opponents.  On offense he's got to slow down and make better decisions.  I haven't seen any practices or other pre-season action, but I hope he's worked on his shot.  It's been flat since he arrived in Durham, and his putting a little more air under it and giving himself some margin for error on that jumpshot would help too.
It's really going to be an interesting year for both members of Duke's junior class.  Tyler Thornton may be the most natural leader on the team, and Duke is going to need him in that role for sure.  Helping the Blue Devil defense return to its accustomed level would be a huge contribution as well.  But if Quinn Cook is healthy and playing well – and early indications are "yes" to both -- and freshman Rasheed Sulaimon is ready to make an impact as well, Tyler will have to make his contributions in relatively limited minutes.
For Josh Hairston, this year may be a crossroads of sorts.  He's an upperclassman now.  Can he fight his way into the rotation and actually help this team win games?  Or is he destined to remain lower on the depth chart and contribute mainly at practice and in a support role?  We will soon find out.