The Blue Devils are going to a bowl game! BDN staff and the Blue Devil Greats have already reserved their seats. Do you have yours?
Week 8 of the college football season was just about perfect for Duke fans, with Duke reclaiming the Victory Bell and earning bowl eligibility against rival North Carolina. For one Duke fan, it was a perfect week, as Bob Green correctly picked all 10 games in week 8. He now trails our leader, Andrew Slater, by just one point overall.
Here are this week's standings: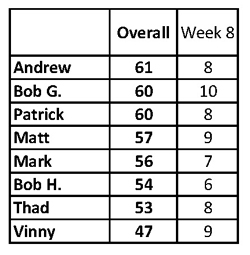 Another great week of games in the world of college football, headlined by the top 10 matchup between Notre Dame and Oklahoma. Two undefeateds collide in Tuscaloosa, where the Crimson Tide host Mississippi State. Meanwhile, in the ACC, the Tar Heels look to avoid going 0-2 in rivalry games as they host Tom O'Brien's Wolfpack. Finally, it's First Place Football for the Blue Devils as they travel to Tallahassee to take on the Florida State Seminoles in a tough ACC matchup. Can the Blue Devils pull off the unlikely upset?
Here are this week's picks: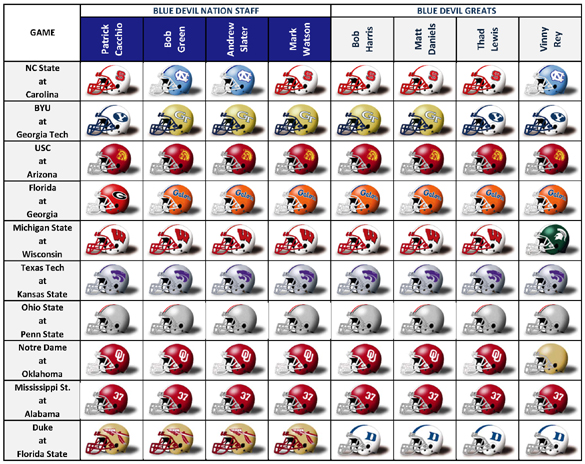 Patrick Cacchio: The Seminoles rank second in the country in rush defense. The Blue Devils faced another top-5 rush defense in week 2 against Stanford (#4). Florida State will look to use their strength up front to shut down the Duke rushing attack and pressure Sean Renfree. This will be the Duke offensive line's toughest matchup for the year. If they lose the line of scrimmage, it will be a long day for the Blue Devils. Florida State 35, Duke 16
Bob Green: Beating Florida State is a tall order, but N.C. State pulled it off so who am I to underestimate this Duke team, which happens to be all alone atop the ACC Coastal Division standings. Of course, the Wolfpack won at home while the Blue Devils will have to pull off the upset in Tallahassee.
Florida State is number one in the ACC in Scoring Offense (44.4 ppg) and Scoring Defense (12.6 ppg). Move over to special teams and the Seminoles are number one in Kickoff Returns and number one in Kickoff Coverage. They are an athletic and talented team across the board. Quarterback E.J. Manuel is number one in Passing Efficiency. His mobility will be a big challenge.
Duke will need to win all the intangibles: turnovers, penalties, and field position. Field position can be a game within the game and talented Punter Will Monday and Kicker Ross Martin give the Blue Devils an opportunity.
Additionally, Duke must perform at the line of scrimmage on both sides of the ball. Demonstrating the ability to successfully run the ball for a second week in a row will go a long way toward achieving a victory on the road.
In the final analysis, from where I am sitting, the order is too tall. Duke will keep it competitive, but Florida State will prevail. Florida State 34, Duke 23.
Andrew Slater: Coming off the biggest win in, at least, two decades, Duke faces a Florida State team, which even Coach Cutcliffe acknowledged is more talented across the board. The Seminoles are the only college football team that is in both the top ten in total offense and total defense. With a combined sixteen sacks entering Saturday's matchup in Tallahassee, Bjoern Werner and Cornellius Caradine may form the best overall defensive line tandem in college football. 6'5" E.J. Manuel, the highly accurate QB for the 'Noles and future NFL quarterback, will present a major challenge to the Duke defense. They've got a deep receiving corps and, even the unfortunate loss of RB Chris Thompson, is likely to be mitigated by their plethora of talented backs, notably James Wilder, Jr. Some day, Duke may end its losing streak to Florida State, but not this week. 51-17 Florida State.
Mark Watson: Duke has momentum after their rolicking win over UNC, but FSU is the best the ACC has to offer and they're good at all positions. The FSU run defense is as good as it gets, so this is an area of concern. I think Duke will show some serious fight but picking them to win against FSU would be a major upset with them being a 28 point underdog. FSU 38 Duke 16
Bob Harris: The Devils shock the football world with win #7 in Tallahassee. 'Noles can't replace Thompson. Duke 38 – Free Shoes U 31 (had to quote Coach Orr)
Matt Daniels: Florida State's offense has been struggling to put points on the board while Duke is steadily rolling coming off a program win and remaking history. Look for Duke to go down to Florida State and upset the world with a nail-biting victory. Duke 31, Florida State 24
Thad Lewis: Duke has learned from their mistakes at Virginia Tech and will play a complete game and pull off the upset.
Vinny Rey: Duke 16 Florida state 14. I've got this one going down to the end and being won by a last second field goal. Defensive struggle, but the Duke offense will make enough plays to win the game.