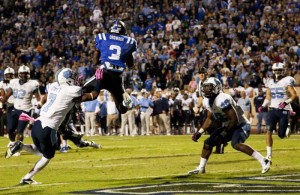 Monday, July 12, 2010 is a day that few Duke or North Carolina fans recall. Early that morning, the Blue Devil coaching staff received a phone call from a little-known athlete from Monroe, North Carolina. At 5'9" and 175 pounds, most schools were recruiting Jamison Crowder as a cornerback, but the Duke staff had seen something on film and worked him out at wide receiver at camp earlier that summer. For most of his recruitment, the speedy athlete favored both North Carolina and Duke, but on the morning of July 12th, it was the Duke staff who received his verbal pledge. "With Duke, the coaches really out-worked everyone. They stayed in touch and I was always comfortable when I visited there," Crowder said at the time of his commitment.
Fast forward to October 20, 2012. Duke trails North Carolina, 30-26 with 19 seconds to play. The Blue Devils face 4th and 2 from the 5 yard line. Sean Renfree takes the snap and looks for an open receiver with the game, the Victory Bell, and bowl eligibility all on the line. "I just went through my progression and threw it up for Jamison and he made a fantastic play," Renfree said after the game, "it doesn't get any sweeter."
Crowder had just one thing on his mind as he made his cut across the goal line. "Once I saw Sean [Renfree] saw me and he threw me the ball, the only thing on my mind was, 'Catch the ball and come down with it.' And everything worked out."
For a player who many thought would line up at cornerback at the college level, Crowder has certainly proven the doubters wrong as a receiver. Last week, he was added to the Biletnikoff Award Watch List and this week ranks 6th in the ACC in receiving yards. He also added a prestigious ESPN College Gameday Helmet Sticker from legendary coach Lou Holtz after his game-winning touchdown catch.
"That's just something that you dream about since you were a little kid. Watching a lot of ball games and you see players catch game-winning touchdowns or hit game-winners in basketball," Crowder said. "It's just a dream come true for me. I always think about that, scoring the last touchdown to win the game. It couldn't have come better against Carolina."
That play is now solidified in Duke Football lore. The throw, the catch, and the resulting victory earned the Blue Devils bowl eligibility for the first time since 1994 and the Victory Bell for the first time since 2003. But it all began several years ago, when the Duke coaching staff outworked the competition on the recruiting trail.
Of course, a lot more went into the Blue Devils' win than just a single recruitment, which is why the victory is all the more sweet. Dozens of great Duke players have gone through the program since the last win over UNC or the last bowl game. QB Thad Lewis, who mentored a young Sean Renfree as a freshman, was on hand to ring the bell himself on Saturday night. A number of former Blue Devils have returned to Durham as coaches: Re'quan Boyette, Jeff Faris, Ben Loebner, Vince Oghobaase, Jomar Wright, and Leon Wright. The dramatic win on Saturday was a direct result of their tireless work and leadership, both as players and as coaches.
And finally, the atmosphere in Wallace Wade Stadium was deserving of a thrilling Duke victory. Blue Devil fans, both young and old, have suffered heart-breaking losses, far too many to list, for years. David Cutcliffe's arrival on December 14, 2007 is another date that few may remember. When Coach Cut came to Durham, he had a vision of bowl games and ACC championships that only a few truly believed could happen. Yet he and his staff put in the hours and remained true to their vision of revitalizing a once proud football program. The process of rebuilding Duke football and re-energizing its fan base didn't happen overnight, and it's not even complete; but when the moment arrived on Saturday night for the Blue Devils to seize victory, to earn bowl eligibility, and to reclaim the Victory Bell, Wallace Wade was sold-out, loud, and every bit as exciting as its neighboring arena.
So few may remember dates like December 14, 2007 or July 12, 2010, but without the events on those days, October 20, 2012 would never have happened. And of course, October 20, 2012 is a date that Duke fans will not soon forget, until say, December 1, 2012?