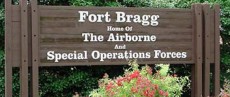 DURHAM, N.C. – The Duke men's basketball team will be in Fayetteville on Oct. 15 for a preseason training and practice session at Fort Bragg. The Blue Devils will stay in the barracks on Sunday, Oct. 14 in preparation for a day of military-style training and practice.
"We are excited to have the opportunity to train and practice at Fort Bragg," said head coach Mike Krzyzewski. "It will be a unique experience for our guys to go through PT and the obstacle courses. We are looking forward to the training session as well as practicing in front of the military personnel."
Duke will participate in morning formations, flag raising and physical training along with roughly 20 soldiers from the base. The PT session will include a stretch, push-ups, sit-ups as well as a two-mile run and will be led by a sergeant major from Fort Bragg. The team also will tackle a pair of obstacle course on the base prior to holding an afternoon practice at Funk Gym.
The final hour of the practice will be open to military personal and Krzyzewski is expected to address the crowd following practice. He is also scheduled to talk to a group of roughly 300 military leaders at the Pope movie theatre prior to returning to Durham.
Duke opens the 2012-13 season on Friday, Oct. 12 with its annual preseason media day and an evening practice.