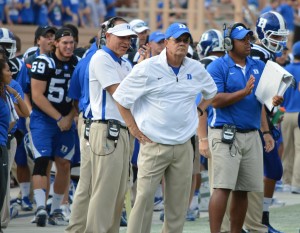 Duke at Virginia Tech
12:30 PM ET
Saturday, October 13
Blacksburg, VA
TV: ACC Network/ESPN3
Radio: Blue Devil IMG Sports Network
Duke: 5-1 (2-0 ACC), beat Virginia, 42-17
Virginia Tech: 3-3 (1-1 ACC), lost to North Carolina, 34-48
Last year: Virginia Tech defeated Duke, 14-10
DUKE INJURIES
PROBABLE: S Brandon Braxton (upper body), CB Lee Butler (lower body), DE Justin Foxx (hand), QB Sean Renfree (elbow), S Chris Tavarez (knee)
QUESTIONABLE: NG Jamal Bruce (foot), DT Jamal Wallace (lower body)
DOUBTFUL: DE Dezmond Johnson (lower body)
OUT: CB Jared Boyd (leg), LB Kelby Brown (leg), TE Braxton Deaver (leg)
OUT FOR SEASON: TE Jack Farrell (leg), WR Blair Holliday, DE Allen Jackson (shoulder), S Corbin McCarthy (shoulder), S Taylor Sowell (leg)
VIRGINIA TECH INJURIES
DOUBTFUL: TE Eric Martin (shoulder)
OUT: G/C Caleb Farris (ankle), WR Christian Reeves (hamstring), LG David Wang (ankle/knee)
OUT FOR SEASON: OT Nick Acree (knee), FB Riley Beiro (shoulder), WR D.J. Coles (knee)
HOW DUKE CAN WIN
North Carolina exposed the Virginia Tech rush defense last week, and with a banged up offensive line, Saturday's game will come down to the line of scrimmage. The Blue Devils have to control the trenches if they hope to win on Saturday. Offensively, it appears that Duke will get Sean Renfree back this week, but Anthony Boone may be a better matchup against the Hokies. His ability to run, along with Brandon Connette, could put Virginia Tech on their heels. Regardless of who lines up under center, the Blue Devils will have to feature a balanced attack against the Hokies. If Duke can control the line of scrimmage and establish a running game with Juwan Thompson, Josh Snead, and Jela Duncan, the struggling Virginia Tech defense will be forced to drop into single coverage against Duke's dynamic receivers. If that's the case, look for another big day for Vernon and Crowder.
Defensively, Duke has to take advantage of Virginia Tech's lack of depth and experience on the offensive line. Thomas is an effective runner, but he has been put under pressure this year and forced into 7 interceptions. The opportunistic Duke defense should be looking to force a takeaway or two. The Hokies have not been able to establish their running game this year, averaging just 130 yards on the ground. The Blue Devils need to make sure that doesn't happen this week, and getting back Justin Foxx, Jamal Bruce, and Jamal Wallace would be a big boost to the defensive front. Special teams has been huge for the Blue Devils, and if they can again win the field position battle, Virginia Tech may struggle to put together long drives.
HOW VIRGINIA TECH CAN WIN
Despite their struggles, the Hokies have the talent to play well in all three phases, and they hope to put it all together on Saturday. Logan Thomas is an experienced quarterback and has the ability to march this team down the field by himself. The Blue Devils will have to be aware of his ability to run, as he has already scored 4 touchdowns on the ground this year. Now halfway through the season, Thomas is starting to get comfortable with his new group of receivers, and he'll have both RB Tony Gregory and WR Dyrell Roberts back from injury this week. Marcus Davis and Corey Fuller have been Thomas' favorite targets so far this year, and prized freshman JC Coleman has received some carries behind Michael Holmes.  Last week, Virginia was able to move the ball consistently in the first half on the ground against the Blue Devils behind their big offensive line. Virginia Tech has a banged up and inexperienced offensive line, but they still will likely look to establish the run against Duke much as Virginia did a week ago with a heavy dose of Holmes, Gregory, and Coleman. The Hokies have the talent to put together a balanced offensive attack, and that could cause trouble for a Duke defense that has given up yards. If Virginia Tech is able to find good balance and take care of the football, they should have a good chance to win on Saturday.
Defensively is where the Hokies have hurt the Blue Devils most in the past. Duke's last trip to Lane Stadium was a 44-7 blowout, as the Blue Devils struggled with turnovers. After giving up 48 points to North Carolina and a ton of yards on the ground last week, the Hokies' defense will be highly motivated this week against Duke. Virginia Tech has certainly struggled against the run and they've had their share of injuries, but they have a number of defenders capable of disrupting the Blue Devil offense. Look for seniors Bruce Taylor and Antone Exum to try and force turnovers, whether it's Boone or Renfree under center. If Virginia Tech is able to win the turnover battle as they have in the past against Duke, it may be another long Saturday in Lane Stadium for the Blue Devils.
WHY VIRGINIA TECH WILL WIN
Coach Cutcliffe has stopped a number of streaks during his time in Durham, and he has a chance to end more on Saturday. Duke's last bowl eligible season was in 1994. The Blue Devils last victory against the Hokies came in 1982. Yes, none of the current Blue Devils were even born then. Duke is happy to be at 5-1, but they also have work still to do, and their work gets tougher the second half of the season. The Blue Devils are a healthier team overall, but they are still without 9 scholarship players this week. On the other side of the field, Virginia Tech has played some of its worst football in years over the first half of the season. They remain a talented, but inexperienced, football team. At some point, one has to think that luck changes for both of these teams: injuries catch up to Duke, and the Hokies finally play well in all three phases. Will that happen on Saturday? With a beautiful fall day expected for Homecoming in Lane Stadium, this should be a terrific ACC Coastal Division matchup. The Blue Devils look to become bowl eligible and prove they are true contenders in the conference, while the Hokies will try to show that they're still the team to beat to get to Charlotte. This is a game that Duke can win, but the Hokies are a team that finds ways to win close games against the Blue Devils. Virginia Tech 31, Duke 27