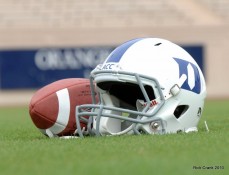 Welcome back Blue Devil faithful for another edition of Friday Night Lights, where Blue Devil Nation takes you on a national tour covering all the high school action from North Carolina to California and back.
This week's action kicked off on Thursday night in Florida as Quarterback Parker Boehme and Jacksonville Sandalwood defeated DeLand, 28-14, in a nationally televised game on ESPNU. Sandalwood improved to 5-2 on the season.
Boehme completed 10 of 18 passes for 122 yards including an 11 yard 


Sorry, but you must become a premium subscriber to view the rest of this post.

Join now by visiting the PREMIUM MEMBERSHIP link at the top of the page, where you can learn more about the benefits of a Blue Devil Nation Premium membership.