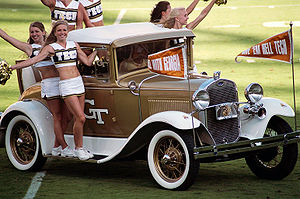 Coming off a much needed bye week, the Blue Devils travel to Atlanta to take on the Georgia Tech Yellow Jackets. Both teams sit tied with Miami atop the ACC Coastal Division standings with 3 conference losses, and a win on Saturday would further their chances for a spot in the ACC Championship game in Charlotte. The Ramblin' Wreck have had an up and down season, but are on an upswing, having scored 68 points last Saturday in Chapel Hill. When scouting the Yellow Jackets, it all starts with Paul Johnson's triple-option attack, led by Tevin Washington and Durham native Vad Lee. The Blue Devils have had some recent success in slowing the triple-option, but have yet to face it in 2012, and are 0-4 against Georgia Tech since Paul Johnson's arrival.
To give us an inside look at the Yellow Jackets, BDN welcomes in Ken Sugiura of the Atlanta Journal Constitution. Ken covers the Georgia Tech beat for the AJC and is among the best sports writers in the ACC. Prior to his work in Atlanta, he wrote for the Philadelphia Inquirer. His work can be found on the AJC Georgia Tech blog, and also on Twitter @ajcgatech. Thanks for joining us, Ken!
Georgia Tech put up 68 points last week at North Carolina, but were held without an offensive touchdown just three weeks ago against BYU. What has been the source of the Yellow Jackets' up and down season? Have the Jackets lived up to the expectations for Paul Johnson's fifth season in Atlanta?
I think the season started going a little haywire with the first game of the season, when the Jackets lost in overtime to Virginia Tech after giving up a last-minute lead in regulation. The same thing happened against Miami, which I think set the stage for the loss to Middle Tennessee State. The team has had trouble with focus and energy at times, particularly in the loss to Middle Tennessee State and even in some of the wins. I think the team, particularly the offense, is pretty capable, but you just don't always see it.
To this point, the team hasn't met expectations. I don't think anyone on the team could have thought it would be 5-5 at this point. I think most people that knew the team thought it would be something like 8-2 or 7-3 and playing for the ACC Coastal title, the latter part of which, at least, is still true.
Redshirt-freshman and Durham native Vad Lee has played well at times under center in the Georgia Tech triple-option, as has returning starter Tevin Washington. Does Paul Johnson have a quarterback controversy on his hands? What are their relative strengths and weaknesses?
I don't know if you would call it a controversy, but I would say that Lee is likely going to get increasing amounts of playing time as the rest of the season progresses. I think it helps that both players are handling it well.
Washington, having started 2 ½ years, knows the offense inside and out. He's not as gifted athletically as Lee, but just knows how to make the pre-snap checks and can run the offense. Lee, on the other hand, is still limited in some ways in what he can do but has such playmaking ability that he can cover up his mistakes by turning them into gains. Lee also has a lot of energy and enthusiasm which I think rubs off on teammates.
When most talk about Georgia Tech, they focus on the difficulty in defending the triple option, but the Jackets have had their own struggles defensively, allowing more than 30 points per game. How have opposing offenses been successful in moving the ball against the Ramblin' Wreck? What are the strengths of Al Groh's defense; has there been improvement since his firing?
The biggest problem, or at least one of them, is that Tech hasn't had a consistent pass rush. It's given opposing quarterbacks a lot of time to sit in the pocket and for wide receivers to work themselves free from man coverage or to find soft spots in zones. Tackling and taking the proper pursuit angles have also been problems, although they're getting better.
The team has been playing better, I think, since the firing of Groh after the sixth game of the season. Johnson and others felt that Groh's schemes and game plans, while sound, asked too much of players both from a mental and physical perspective. The scheme has been simplified and more suited to players' strengths. Given the 50-point effort against North Carolina, it's not like all problems are solved, but I think it's improving.
In the wide open Coastal Division, both the Blue Devils and Yellow Jackets enter their final two games with a chance to play for the ACC Championship. Duke is looking to get healthy and get back on the winning track after their bye week, while Georgia Tech needs one more win to become bowl eligible. How do you think the two teams match up and what do you expect to be the result on Saturday?
Sean Renfree gave Tech problems last year in Durham and I'd think the same will happen again, particularly if the pass rush is again ineffective. Coaches think Duke's running game is improved, too, which gives the Blue Devils more balance and less predictability. On that side, a lot of it will be determined on first down. If Tech can stay out of 2nd and 7 or 2nd and 6 or worse, the Jackets' chances improve considerably.
On the other side, we'll have to see how much momentum and edge Tech can carry from the North Carolina game, when it was hitting play after play. The Jackets did well to keep drives going on third down, particularly with Lee at quarterback, and avoid turnovers. Duke's hope, it would appear, would be to force turnovers, which it has done better than just about everyone in the country. If not, and Lee is able to match his play from last Saturday, it could be tough for the Blue Devils.
I'm not sure I'm ready to make a prediction, but Duke-Tech games have been close the past couple of years. Both teams have everything to play for, so I think it ought to be close again.