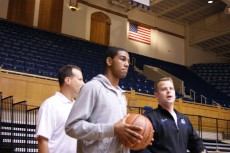 One of the two players who signed with Duke for next season is a shooting guard out of Texas by the name of Matt Jones. Jones is a solid player getting better as he works on his game per his future teams orders. Jones said he was just trying to be a normal kid on and off the court and play with more confidence this season during our chat and that he was looking forward to putting on a Duke uniform and that he wanted to each time he watched the Blue Devils. Check out what he had to say for yourself as a BDN Premium member -
On his season to date …
My season has been going pretty good so far as a team and individually. We're eight games into our season and I am trying to lead my team, we're pretty young this season but we are ranked like #20 in the nation, so we're pretty good.
On playing a different role with his high school team this season …



Sorry, but you must become a premium subscriber to view the rest of this post.

Join now by visiting the PREMIUM MEMBERSHIP link at the top of the page, where you can learn more about the benefits of a Blue Devil Nation Premium membership.