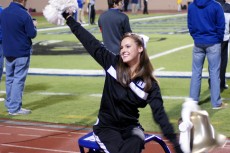 This week is all about Atlanta. Duke in Atlanta, that is. The Blue Devils basketball and football teams will visit the land of the Peach Tree in two high profile games. Coach Mike Krzyzewski and his charges will jump first on Tuesday evening, when Duke takes on Kentucky in a Battle of the Blues. This game is part of the State Farm Champions Classic, and pits two of the nation's most storied programs facing off in an early season slugfest. On Saturday, the football team takes on Georgia Tech and with a win, followed by a victory in their final home game against Miami, the Blue Devils can play for the ACC Coastal Division title. So there is no doubting that Hot 'Lanta will be the center of the Duke universe this week.
Blue versus Blue or Duke versus Kentucky
Two thoroughbred programs will take to the court tomorrow evening in Atlanta, and by evening's end either the defending national champions will once again be standing tall or Duke will have served notice that they are a true contender for this season's crown. A lot of folks want to make something out of early season basketball games, more so than they should at times.  Even if it's true, the fact that neither Duke nor Kentucky played all that well in their season openers really means little, as those performances indicate almost nothing about how the season will ultimately go.  The winner of this game could have a leg up with the polls and the talking heads, if nothing else.  That is, until Duke next travels to the absolutely loaded Battle in Atlantis.
During today's press conference, we got nothing more than the standard coach-speak from John Calipari. He was quick to point out that Kentucky is a freshman-dominated team, when in fact their veteran depth is very much alive and well, and in reality is likely the key to a Wildcat win. Calipari also mentioned that PG Ryan Harrow, a transfer from N.C. State, has been sick, is still sick, and may not make the journey. This means he'll likely play. Calipari also mentioned that Duke would probably have the most fans in the arena, when the reality is that Atlanta is known for garnering a huge Kentucky turnout. I'd take the bet that attendance is 2 to 1 or better for the Big Blue Nation.  Calipari also mentioned the Wildcats would have to rebound better, but that goes for Duke as well, as the Blue Devils have not been as proficient on the boards as many anticipated in their two exhibition and one regular season game. Coach-speak comes in many forms; Krzyzewski has his own, so sometimes you're forced to read between the lines. The bottom line is this: it's a huge matchup, especially for the fans and the network. We'll go into more detail in our game preview a bit later, and we'll be in Atlanta to bring you all the latest from court side.
Duke in line for ACC Title
The Duke football team will take its turn in Atlanta this Saturday at 3:30 when they face Georgia Tech.  The Blue Devils are a double figure underdog. A few weeks ago, a lot of folks were pointing to this game as the best chance for Duke to get to six wins, but this is ACC Football -- and much can change in a single weekend. Now the Yellow Jackets are peaking after they blasted North Carolina on the road, putting up ridiculous offensive numbers. In order to become bowl-eligible, Tech needs wins in its last two games, versus the Blue Devils and a highly ranked Georgia team.  Which team do you think their coaching staff feels they have the best shot to defeat? Duke was off last week, so had extra time to prepare for the vaunted option attack that many teams struggle to stop.  It'll be up to the Duke offense to put up enough points to win in what could be a wild and woolly affair. A lot of great story lines in this one, and a Duke win sets up a game with Miami next week where a win would vault them to the ACC Championship game versus (probably) Florida State. But first things first.  The Yellow Jackets are more than just a bump in the road. The beauty of the whole thing is that nobody would have thought that Duke's final two games in 2012 would have such meaning, and that they'd have the opportunity to actually compete for a championship.
The Intangibles
When Duke was searching for a football coach, they landed David Cutcliffe, but before that happened they interviewed Paul Johnson, the current Georgia Tech coach. He took the Tech job for less money than Duke offered, and it has been rumored that he's not said a lot of nice things about Duke's program ever since. His teams handled Coach Cut's early teams easily, but the gap has closed.  Or has it? We'll find out this Saturday. It is also worth noting that Duke senior quarterback Sean Renfree ended up deciding between Duke and Georgia Tech, so this game has to have some extra meaning for him as well. As I said, lots of story lines. I think you will see a physical game, with the toughest team coming away with the win. With conference championship implications on the line, this is one of the biggest Duke football games in some time.
On the lack of playing time for Alex Murphy
Everybody noticed that Alex Murphy didn't get any burn in the season opener against Georgia State.  We decided not to address this situation past what Coach Mike Krzyzewski said, which was that it was a coach's decision.  I suppose it's because we've been around the Duke program for a long time and have seen this same type of thing happen to many players, including the likes of Nolan Smith. The bottom line is while it may be a shock to some that Murphy did not play, many Duke players in the past have had to pay their dues, or been in some sort of similar place that Alex is in now, and the vast majority of them worked things out over time. I have no first-hand knowledge of the situation, but I would advise against overreacting to this one game decision. A single game-day decision is by no means a long-term projection as to how things will go. My bet is another player will be on the bench at some point this season while Murphy plays, and then I will have to start this explanation all over again. That's it! Let's wait for something more clear and consistent to emerge.
Semi Ojeleye and Family
Semi Ojeleye visited Duke on his official visit this past weekend. There are no first-hand accounts as to what happened, only that he is a sealed deal for Duke. Ojeleye is an interesting prospect who fits the Duke mold in more ways than one. He's an athletic and versatile player who is unlike many of the current kids on the roster, and he already possesses a college-ready body.
 Kyrie Irving tearing it up
In his second season, Kyrie Irving is looking like an NBA All-Star.  If you can get past some of the garbage pail offerings from the likes of SB Nation, you will find a lot of good stories on his start to the season. Here is one of the
better reads
on Kyrie.