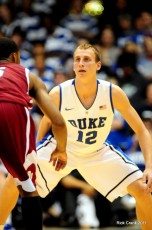 DURHAM, N.C. - Despite the fact that starting guard Seth Curry sat out the game with an ankle injury and the fact they were coming off a huge win over Ohio State, the Duke Blue Devils had no letdown as they demolished Delaware 88-50 in Cameron Indoor Stadium on Saturday afternoon. With the victory Duke moves to 8-0 on the young season; the team will surely get more votes for the number one spot in the nation this week, which Indiana has occupied all year.
It was a feel-good game for Duke in more ways than one. With the students potentially being preoccupied with exam week, it looked initially as if attendance might be a little sparse, but a late rush filled the old arena and the atmosphere was the usual Cameron. On this day, the home fans gotwhat they wanted -- not only a victory, but a chance to see the bench guys get plenty of minutes to hopefully spur their development.
Seniors Ryan Kelly and Mason Plumlee led Duke with 18 points each; the All-American hopeful Plumlee posted another double-double as he also corraled 11 rebounds. Another veteran, Tyler Thornton, had only three points, but more importantly played his best floor game of the season, dishing out ten assists and grabbing six rebounds from his guard spot. The Blue Devil guards dominated the Blue Hens backcourt, as they combined for 22 assists on the day. Thornton earned the praise of Mike Krzyzewski in the post-game press conference, and for good reason.
Rasheed Sulaimon continued his stellar play as well, stepping up for the injured Curry and scoring 14 points to go with 4 rebounds and 6 assists. He is the coolest customer as a freshman that I have seen at Duke in quite some time and, more importantly, the unselfish Sulaimon is the consummate team player, never forcing anything and always playing within the team concept.
The Blue Devils also got another great game from Quinn Cook, who has earned the keys to the car at the point guard spot, allowing Thornton to play the sixth man role he seems to relish. Cook brings a brash, cool confidence to the court and in addition to posting consistent numbers, he's making players around him better.
That brings us to the Duke bench, that in this game was just four players deep due to the injuries to Curry and Marshall Plumlee. Both Alex Murphy and Amile Jefferson got valuable minutes and turned in solid performances -- performances they can build on. Murphy has been the subject of inaccurate web rumors of late with concern to his status at Duke, but he was happy after helping his team play with intensity for a full forty minutes. Murphy ended the game with 10 points and 7 rebounds, both career highs at Duke, while Jefferson added 12 points and 6 rebounds. Those totals were also career highs for the freshman forward from Philly.
All in all, it was an impressive performance from a Duke team that came out with plenty of intensity and was able to coast to a win. The Blue Devils dominated the game throughout and from every position, outscoring the Blue Hens in the paint by a 40-24 margin and also getting a season-high 27 points from the bench. "I feel good about everybody's play. Everybody played well today. Everybody. They were terrific together," said Kryzewski in the post-game. That statement pretty much sums up another solid win for Duke.
Game Notes:
- The Blue Devils pushed their home winning streak against non-conference opponents to 98 straight
- Their 8-0 start is their third in the last five seasons.
- Ryan Kelly and Mason Plumlee have scored in double figures together in all but one game this season.