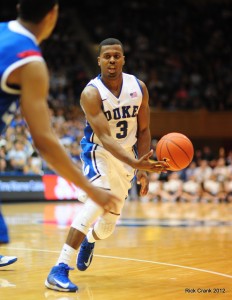 DURHAM, N.C. - After a sluggish start, the undefeated and number one ranked Duke Blue Devils used a couple of second half runs to defeat Elon by a 76-54 score.  The Blue Devils will go into the holiday break with an 11-0 record before returning to the court against Santa Clara on December 29th.
Duke was once again led by senior standout Mason Plumlee who scores 21 points to go with 15 rebounds.  Plumlee leads the ACC by a wide margin for double-doubles on the season, but he still feels he can get better.  "I left a few points on the floor, so I can play better," said a humble Plumlee in the post game locker room.
But there is more than one key to the Blue Devils early success where they've taken on all comers.  And the most prominent reason is team chemistry, something every player touched on.    While Duke was inconsistent on the evening in perhaps one of their least pretty efforts of the year, they came around as the game went on, wearing down Elon which drops to 6-5 on the season.
Tyler Thornton helped break the game open with successive three-point shots in the second half and the Blue Devils never looked back and he totaled 8 points in the game,  Ryan Kelly added 14, Rasheed Sulaimon 13 and Quinn Cook 10 and a career high 8 rebounds from the guard spot.
Coach Krzyzewski also addressed the aforementioned team chemistry in the post game, saying this team was as tight as any since Kyrie Irvings freshman season.  Check out what Krzyzewski had to say via BDN Video where he addresses Marshall Plumlees injury and more -