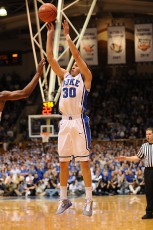 Fresh off a sterling comeback to knock off a physical, poised, and well-coached Ohio State team in front of a raucous Cameron Indoor Stadium crowd on Wednesday night, the nation's #2 team welcomes Delaware into Cameron on Saturday afternoon.  The unbeaten Blue Devils and the Blue Hens will tip at 2 PM EST.
Nobody has played a schedule with anything close to the difficulty that Duke has played, as the Devils have taken out Kentucky, Louisville, and Ohio State, as well as a very good Minnesota team and a VCU squad that will be nobody's easy out this year.  So it is tempting to exhale and say, "OK, it's Delaware.  Step down in competition. They're 0-15 all-time against Top 10 teams and 0-27 all-time against Top 25 opponents.  We've won 97 in a row at home against non-conference opponents.  The team to break that streak isn't going to be Delaware.  Should be a breeze."  OK, look: the reality is that there is no way Duke is going to lose this game.  But that doesn't mean Delaware is a bad team; it doesn't mean they can't challenge Duke in some areas; and it certainly doesn't mean there's nothing for Duke to gain from a game like this.
A little background on the Hens.  They're coached by Monte Ross, a former top assistant to Phil Martelli at St. Joe's, who is now in his seventh season at the helm of the program.  Last year was the team's best under Ross, as they went 18-14 overall and 12-6 in the Colonial Athletic Association, and made it to the post-season CBI Tournament.  Of course, it should be noted that Ross's tenure has not been as successful as either of his two immediate predecessors:  former Duke swingman David Henderson, and former Duke assistant and current Notre Dame Head Coach Mike Brey.
The teams have met once before, in 1995, when Duke posted a 6 point win in Cameron.  Somehow I had blocked out the fact that Greg Newton led Duke with 24 points and 9 rebounds in that game.
Duke will be the highest ranked opponent that Delaware has ever played.  Fortunately for them, four starters off of last year's team and the top five scorers have all returned for 2012-13.  The two top players are 6'2" junior guard Devon Saddler, who was second in the CAA with 18.8 ppg last year, and 6'9" 235 pound senior center Jamelle Hagins, who is Delaware's career leader in blocked shots and who led the CAA in rebounding last year.  Both Saddler and Hagins earned second team All-CAA honors.  This year, through seven games, Sadler is averaging a CAA-best 21.4 ppg, although on only 42.5% shooting and 33.3% three-point shooting.  Hagins is averaging 13 ppg on CAA-leading 64% shooting and a very impressive 13.4 boards -- third overall in Division I -- as well as over 2 blocks per game.  And he shoots 90% from the line.
Sophomore guard Kyle Anderson has also started all seven games this year.  Jarvis Threatt, another 6'2" soph and a distant cousin of former NBA player Sedale Threatt, is the third double digit scorer at 10.4 ppg, but he's shooting an anemic 32.7% from the field. He's missed the last two games with an abdominal injury, but should be ready to go against Duke.  The fifth starter has usually been either 6'6" 250 pound forward Josh Brinkley or 6'9" 245 pound junior forward Carl Baptiste, a transfer from St. Joe's.  Whichever of those two does not start, along with 5'8" freshman Terrell Rogers, whose father Shawnta was a standout hooper at GW, will be the top two guys off the Delaware bench.
The Blue Hens have lost five of the seven games they've played thus far, but one of their wins was a really nice one.  They began with a 7-point loss to LaSalle, then began play in the NIT Season Tip-Off Tournament, where they got off to a good start by beating Penn of the Ivy League by 15.  Then came their best performance of the year when they knocked off Virginia -- yes, Virginia of the ACC -- on the road, no less, by 6, to advance to the semi's of the tournament.  They lost a tough 3-point game to Kansas State in a game in which Saddler went off for 32 points and Hagins dominated inside with 15 boards.  Two days later Delaware was manhandled by Pitt (Saddler did have 28 though) and finished a very respectable fourth in the tournament.  They have since suffered two more close losses, by 5 on the road to Temple (Hagins had 29 points against the Owls) and by three at Lafayette after rallying from a 20 point deficit.  Hagins had 23 boards in that one.
Coach Ross has really shortened his rotation in the last couple of games.  Against Temple, Saddler played 39 minutes, Hagins played 38, and Anderson played 36.  He followed that up by playing all three of those guys the entire 40 minutes against Lafayette; Rogers played 35 minutes too.
So Saddler is a strong perimeter player who can also get to the basket, but while his jumper is purportedly improved, he's still not shooting a great percentage, as mentioned above.  In fact, the Blue Hens as a whole are just not a great shooting team from the outside.   Threatt is shooting 33%, Anderson is at 37%, and Rogers is at 32%.  Hagins is a terrific shot blocker and strong rebounder, and can hit the mid-range jumper.  Brinkley is a good rebounder and finishes well around the basket.  Delaware averages a +3 on the boards as a team; Duke is at -2.  But perhaps most ominously against Duke, Delaware is not a good ballhandling team.  Not only does the team have more turnovers than it does assists, but every single player individually has more turnovers than assists.
Duke is going to put a lot of pressure on Delaware's ballhandlers, and likely turn them over a bunch.  These guys don't shoot well against mid-major competition; I wouldn't expect things to improve against the intensity Duke is expected to bring, in Cameron.  While Hagins is a strong inside player, he's not used to going against guys as long and athletic as Mason Plumlee, or as crafty defensively as Ryan Kelly.  Delaware is also small, starting three guys around 6'2".  So Duke's utilizing a three-guard lineup will not leave them vulnerable defensively on the perimeter, as it sometimes has in the past against big guards and long wings.
It would be natural to expect somewhat of a letdown in intensity from Duke, coming on the heels of the gauntlet they've just been through.  They could come out lethargically and let this team hang around awhile. But this Blue Devil team may suprise us.  They seem to be playing with such confidence and playing so well together, that they may just want to keep the party going, and just take care of business here by dispatching the Blue Hens early.  That would be really good to see.  When you have the better team, and when you could be ripe for a letdown, not allowing it to happen and coming out with focus and intensity would be the sign of a rapidly maturing team, and that's frankly what I expect to see.
What many Duke fans also will be looking for is how Coach K uses the bench in this, and succeeding games.  Meaning: is he going to give Amile Jefferson and Alex Murphy some real burn?  Will those two frosh get the opportunity against lesser competition to start to get comfortable on the floor in a real game situation?  Can or will K let them play through mistakes and leave them out there long enough to make some positive plays and gain some confidence? I for one hope the answers to these questions is "yes."  And I'm not alone.
Also interesting will be what he does with Seth Curry.  Seth was obviously hurting in the Ohio State game due to his shin injury, and then turned an ankle on top of that.  Many wouldn't mind seeing K just sit him entirely for this, and maybe even a few more games, and let him do some healing.  I doubt that happens, but I also wouldn't be surprised to see Seth get pretty limited minutes.  But what do I know?  K may see things completely differently.  He may want to keep the momentum going with his five starters getting heavy minutes.  He may want them to just continue to get used to playing together and playing those heavy minutes, knowing that he's going to need them to do that later in the year, and may feel that getting Amile and Alex integrated is not as important.  We just don't know.  As they say, "THAT'S why they play the games."