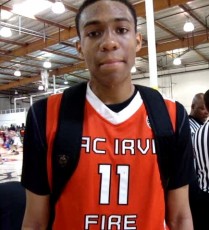 Word came out of Detroit, Michigan today that the nation's top rated prospect, Jabari Parker, would choose his college destination on December 20th. While that date has yet to be absolutely confirmed, it falls in line with what the Parker family has said all along --their son wanted to make a a decision before his high school season in order to take the pressure off and enjoy his senior year.
Parker is considered a sure bet at every level, and his addition would make any team a contender.  It has long been thought by those who have followed his recruitment that Duke and Michigan State were neck and neck for his services. Parker, who is of Mormon faith, also lists BYU, Florida and Stanford as finalists.
You can see Parker in action this Thursday evening when his Chicago Simeon High team takes on DeSoto, a team that feature future Duke shooting guard Matt Jones. The game will be telecast by ESPN with a 9:30 PM start time.
For more information and the latest thoughts on Parker, join Blue Devil Nation Premium, our extended subscription service. There you can read multiple past interviews and hear from knowledgeable folks who have seen him play upwards of 20 times each, as our staff has covered his recruitment for more than two years . We also have our latest Duke Basketball Recruiting Update posted on the members message board.